No baloney here. Just delicious and tasty abalone, please. Growing up, my father always commented that I only liked pricey food. I think it was just a coincidence. But as a kid, if you asked me what my favorite food was, I would definitely say, "Abalone!" I can't remember my first taste, but I can tell you when cooked properly, abalone is tender, juicy, and succulent. It absorbs the flavor of anything it's cooked in, whether it's soup or just sauce.
Yesterday, I had the pleasure of entertaining new friends we made at the Boston Seafood Show, Nancy and Derek of Lonimar, a company based in Melbourne, Australia. We happened upon their booth at the show and got to talking. To our delight, we discovered that Lonimar only carries wild and natural abalone.
Lonimar is the company behind the 25 year old abalone brand, Sea Prince. The brand is quite well known and is particularly popular in Japan and Hong Kong. Lonimar has perfected the art of abalone packaging and most importantly, preserved the natural taste of the shellfish. And because the abalone is wild, there are different taste profiles and appearances within their product line. There are many fakes out in the market today most notably in the canned arena, topshell, which is often marketed as an "abalone-like" product. (Check out the differences as explained on Chowhound.) But don't be fooled! Nothing beats the taste and texture of genuine abalone.
They have even taken the product further and developed the most delicious and authentic abalone sauces I've ever tasted. If you shop at any Asian supermarket you will most definitely find oyster sauce. It's a staple of Chinese cooking. Occasionally, you will also find abalone sauce. Next time you shop for either of these items, make sure you read the label thoroughly. You will almost always find that there is no actual trace of shellfish in any of these sauces. Usually they are (or should be)  marketed as "oyster-flavored" or "abalone-flavored" sauce. Lonimar the only manufacturer of true abalone sauce. Their sauce contains over 30% of actual abalone extract. You only need to try a small dab to taste the concentrated abalone flavor.
During their visit with us, Nancy and Derek graciously brought some of their samples so we could test and taste at Ocean Jewel, a popular Chinese seafood restaurant in Flushing, Queens. Here are the dishes we tasted:

Sliced abalone sashimi style. These abalone were taken right out of Lonimar's brine and retort pouch and were ready to eat as is. They have previously been cooked before packaging so therefore they are safe to eat right out of the package.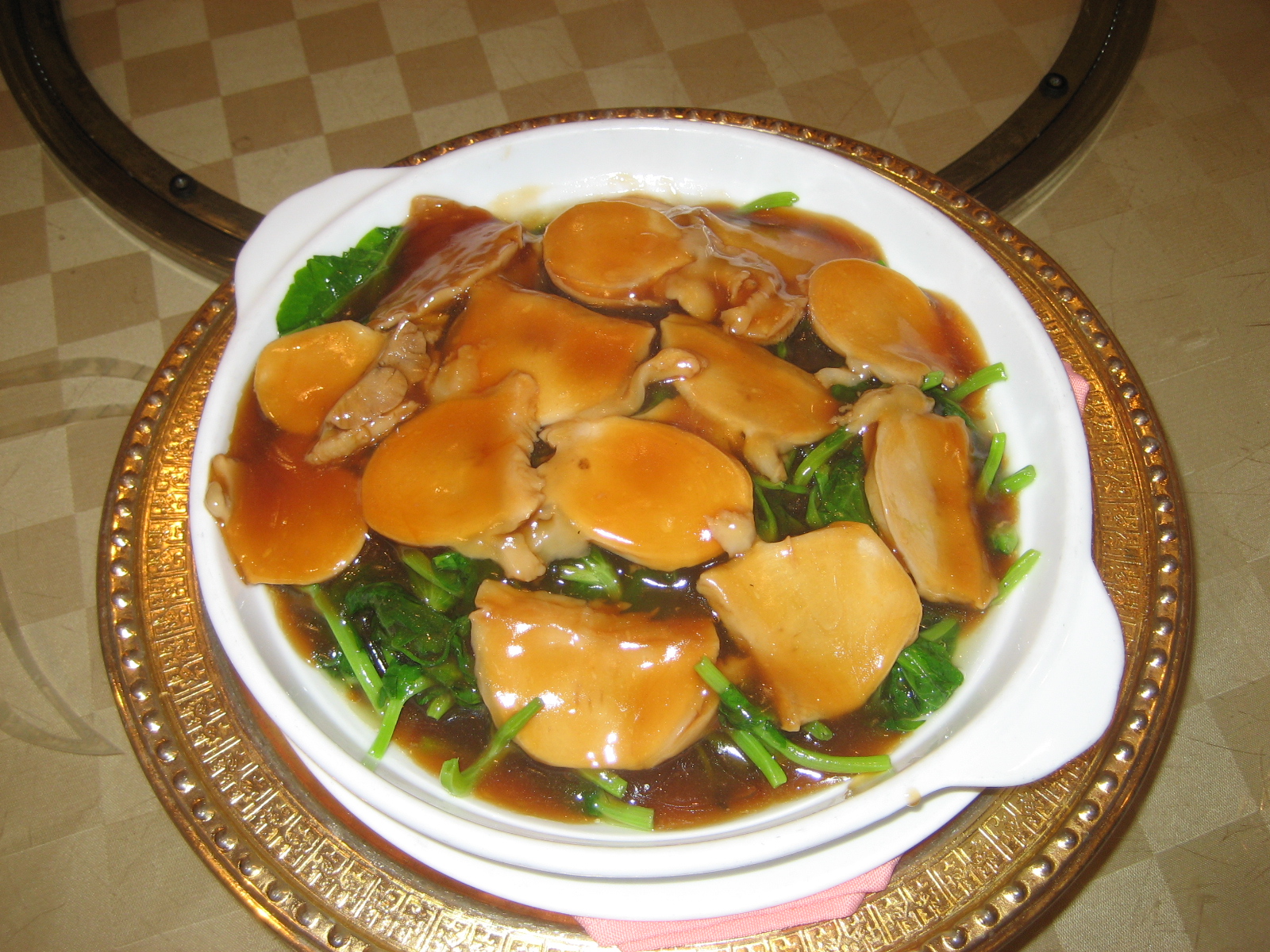 Steamed abalone with bean sprout stalks topped with Sea Prince abalone sauce. Flavorful and juicy!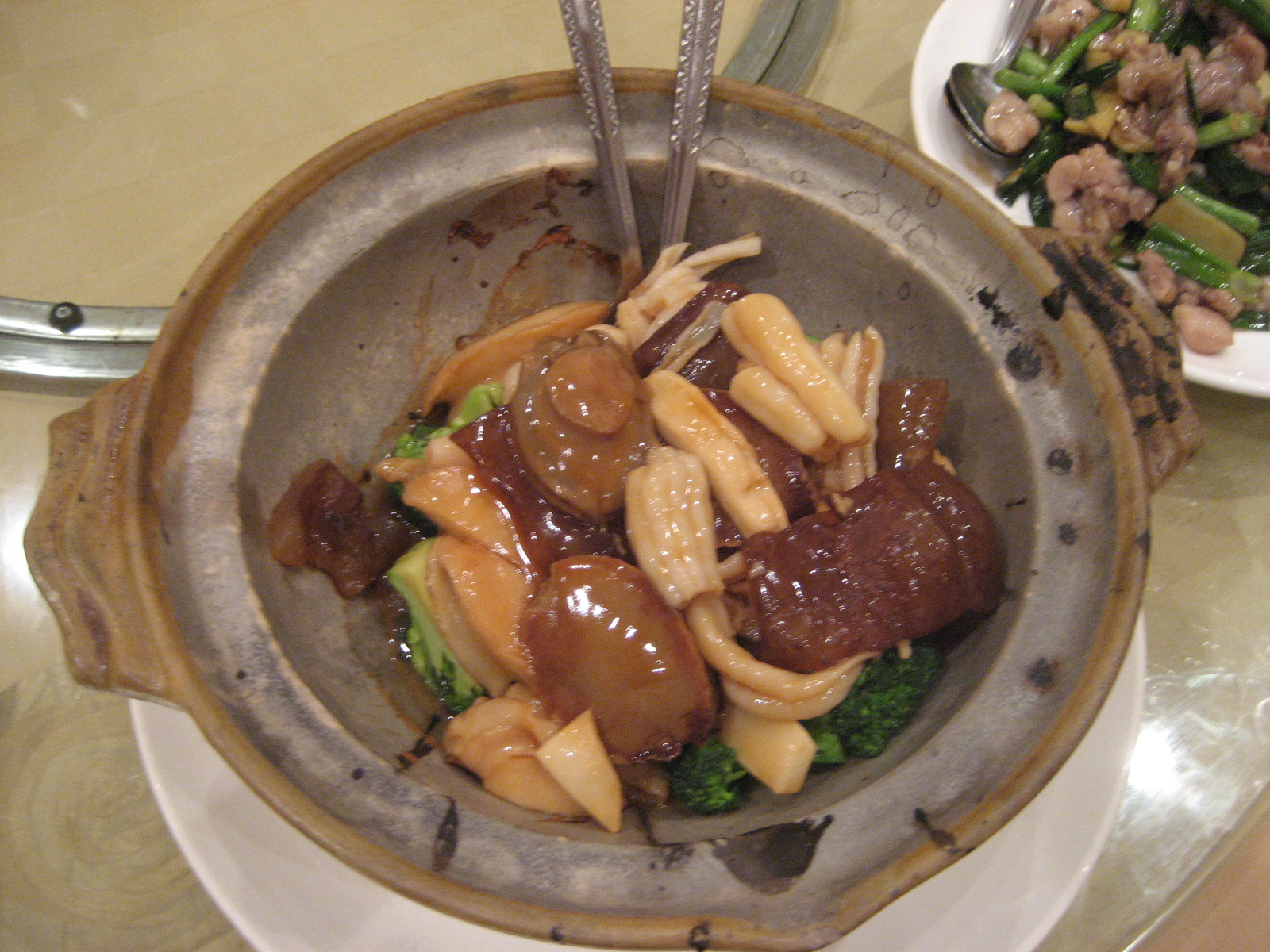 Braised abalone with sea cucumber and broccoli. Braising is one of the most traditional ways to prepare abalone.
Any other abalone fans out there? I personally can't get enough.