Interested in selling with us?
Element Seafood carries live oysters, clams, mussels and other seafood specialties, and we service a variety of restaurants and retailers in NYC. If you are a shellfish farmer or purveyor and you think you'd be a good fit, please drop us a line. Note that we do NOT pick up at the New Fulton Fish Market at Hunts Point, however we do transport from Brooklyn Fish Transfer at the Brooklyn Navy Yard. To work with us, please go to our Contact page to send an email, and we will reach out to you to follow up or if we have any further questions.
American Mussel Harvesters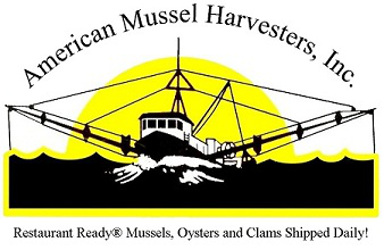 In 1987, shortly after starting American Mussel Harvesters, Inc., Bill Silkes, along with Vice President, Jane Bugbee, outgrew a boat-based business and took up residence on the pier in the historic fishing village of Galilee, Rhode Island. AMH continued to serve local New England restaurants and expanded to markets and distributors nationwide. With an avid devotion to presenting the freshest shellfish available, and a true love of his "animals," Bill traveled to several mussel-producing countries to study their processes. He brought home just a little more than he could fit in his carry on! He purchased the highest quality state of the art equipment he could find in the world, literally. All this beautiful new machinery needed a larger home and in 2002 American Mussel relocated to the Quonset Business Park, strategically located on Narragansett Bay, Rhode Island.
Today American Mussel Harvesters, Inc. is one of the largest producers of mussels in North America. Additionally, AMH has integrated oysters and clams into their program and have formed strategic alliances with independent shellfish farmers in the area. In 2001, Bill began planting seed and aquaculturing oysters under the umbrella of Salt Water Farms, LLC. The food-rich, pristine waters, produces three varieties of farmed oysters and the premium Rhode Island Mussel, The Blue Gold. The strategic partnerships and production integration is the hallmark of AMH and continues its proud heritage of specializing in authentic brands of Restaurant Ready® live shellfish.
Barnstable Oyster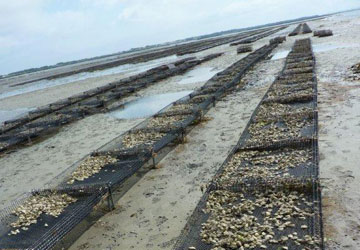 When husband and wife team Kevin Flaherty and Tamar Haspel moved from the Upper West Side of Manhattan to Cape Cod, they fell in love with the art of oyster farming. After all, Kevin has always wanted to be a farmer, and Tamar, a prominent food writer, really loves to eat oysters.
And so, Barnstable Oyster was born in Barnstable, MA, out on the "bicep" of the cape. It's a small operation, producing only 125,000 to 250,000 oysters each year, the maximum number they can keep watch over. After all, they want to be sure they can oversee every aspect of the oyster's life, which means harvesting by hand even when it's cold and rainy outside.
Fortunately, the rewards are pretty sweet. The nutrient-rich, saline waters of the Cape result in oysters that reach full-size in just 15 months. These Barnstable oysters are firm and deep-cupped, a perfect balance between sweetness, brininess and minerality. They're fantastic—an oyster you would never add cocktail sauce to—and we're proud to bring them to you.
Fanny Bay Oysters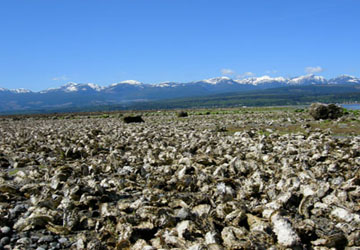 Fanny Bay Oysters began in 1984 as a family-run shellfish farm located in Baynes Sound, a pristine landscape home to the prime shellfish beds of British Columbia. In the intervening decades, Fanny Bay has grown by leaps and bounds, and now brings top quality shellfish to fans around the world, from the Buckley Bay ferry landing down the road to the far-flung reaches of East Asia. To do this while maintaining superior freshness, they have invested in sophisticated equipment to streamline the harvest process and operate with strict sanitation procedures. Meanwhile, Fanny Bay is a green company and proud of it! All of their operations are sustainable and designed with an eco-friendly conscience.
There's no substitute for experiencing these idyllic coasts off Vancouver Island, but if you can't be there in person, you can taste the oysters themselves. Nourished by nutrient rich waters, the oysters develop full, firm meats with distinct cucumber finish. The elegant flavors are matched by star-like fluted shells. It's no wonder that this quintessential British Columbia oyster is so favored by discerning diners and chefs.
Ocean State Shellfish Cooperative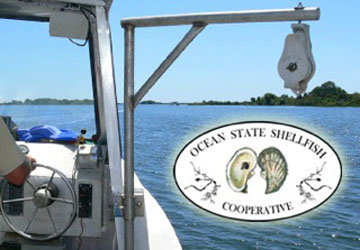 What do you get when six oyster farmers band together in a tightly knit "microbrewery" for oysters? The Ocean State Shellfish Cooperative unites shellfish farmers in a single mission: to provide the highest quality oysters in the Northeast and to preserve the coastal ecosystem of Rhode Island. The six member farms are Cedar Island Oyster Farm, East Beach Farm, East Beach Oyster Company, Matunuck Oyster Farm, Ninigret Oyster Farm, and Rome Point Oyster Farm. Each farm's oyster comes with its own unique taste and characteristics, but all have been raised with care and dedication.
Of course, none of this would be possible without a commitment to preserving our natural environments. That's why every co-op member participates in reef restoration projects. After raising the oysters for six months in protected nurseries, they transport and deposit these spat-on-shell oysters at a reef restoration site within a growing sanctuary, as designated by the Department of Environmental Management. Most of these reef restoration sites reside in the same body of water that support each of our members' farms. The co-op values Rhode Island's coastline and the infinite benefits that these rich ecosystems provide, and members put these values into action as they strive to preserve and ensure the health of RI's greatest natural resource.
We are thrilled to support the rich history and tradition of family oyster farms and sustainable aquaculture in the Ocean State. Learn more here.
Taylor Shellfish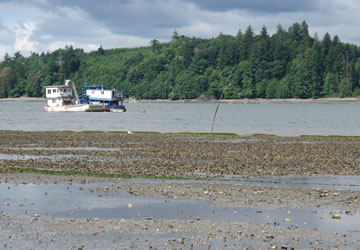 For over 100 years, the Taylor family has been growing shellfish. In the 1880s, great grandfather J.Y. Waldrip originally tried his luck at gold mining in Alaska and ranching in Arizona, but it wasn't until he dove into oyster farming that he truly found his calling. From those early homesteading adventures, Taylor Shellfish Farms has become one of the leading shellfish producers in the country.
In the pristine waters of Washington's Puget Sound, Taylor Shellfish cultivates oysters, mussels, clams and crabs. These tidelands are uniquely suited for shellfish farming, with protected inlets and strong tides. Through their careful stewardship, the waters of the Sound have become cleaner and clearer than ever before. Taylor combines over a century of experience with state-of-the-art hatchery techniques, production facilities and quality monitoring systems. They use innovative nursery and processing techniques to manage every step of the growing process, from seed to shucking. They proudly offer more varieties of shellfish than any other producer in the world, from rare Olympia oysters to prized geoduck clams.
This blend of traditional knowledge and modern technology results in top-notch seafood that you can serve with confidence. Element Seafood is proud to be the exclusive distributor for Taylor Shellfish Farms in New York City.