A few weeks ago, the New York Oyster Lovers Meetup ventured off to Greenport, NY for a quick swim in the oystering world. We visited Little Creek Oyster Farm's sparkling new U-Shuck market, cruised around Greenport Harbor with Captain Dave of the Glory, and visited Widow's Hole to see one of Long Island's most eminent oyster farms. It was a great exploration of oyster aquaculture and we got some great perspectives from both newbies and old salts in the industry.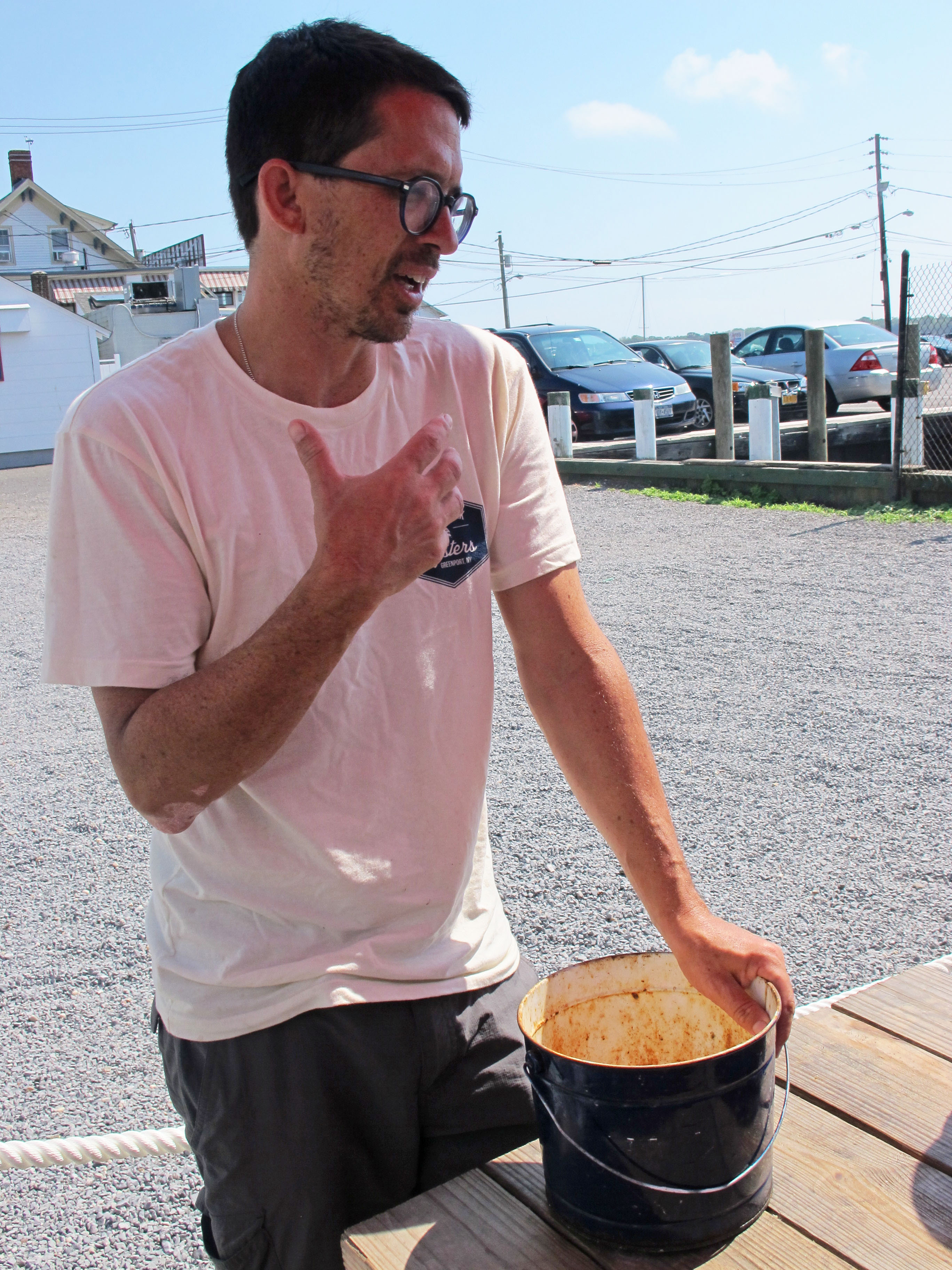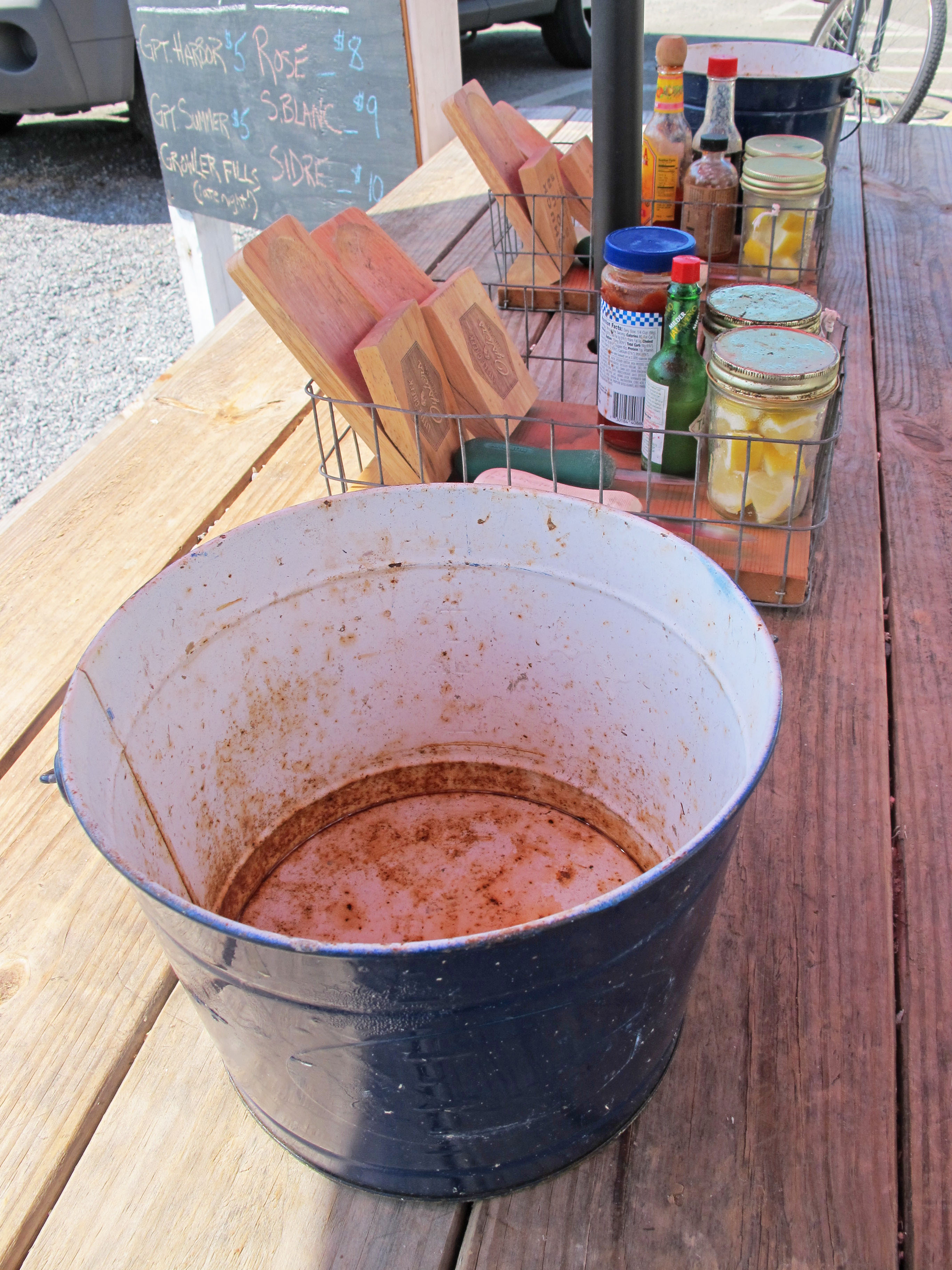 Sunny skies above us, we settled into a pair of picnic tables at the Little Creek market and owner Ian Wile chatted about how he got started in the oyster business. He explained that he was part of the first rookie class for an aquaculture lease program, and his cohort was a mix of baymen, chefs and total neophytes. "One of the best parts about the program was the cool community that it built, that's the part I really like," said Wile. He went on to say that it's been a long road, and there were often regulatory and bureaucratic hurdles to clear when "common sense and rules fight," but for the most part, the Department of Environmental Conservation is a partner for him. "Don't treat 'no' as no, instead react with how we can do something about it," he suggested.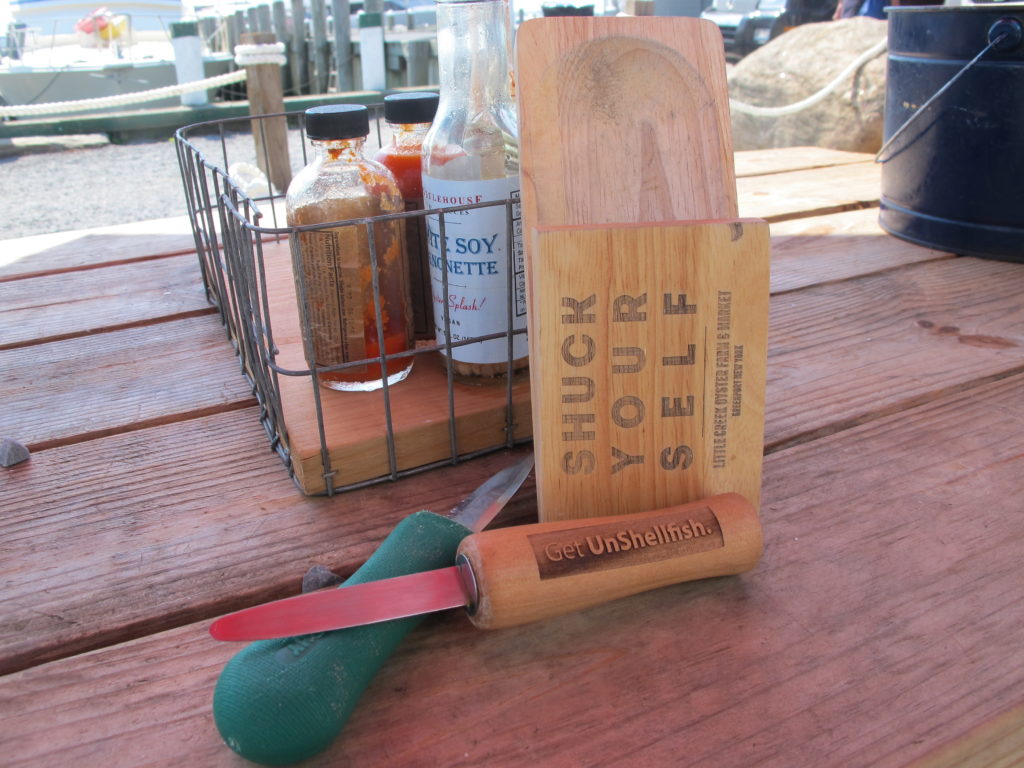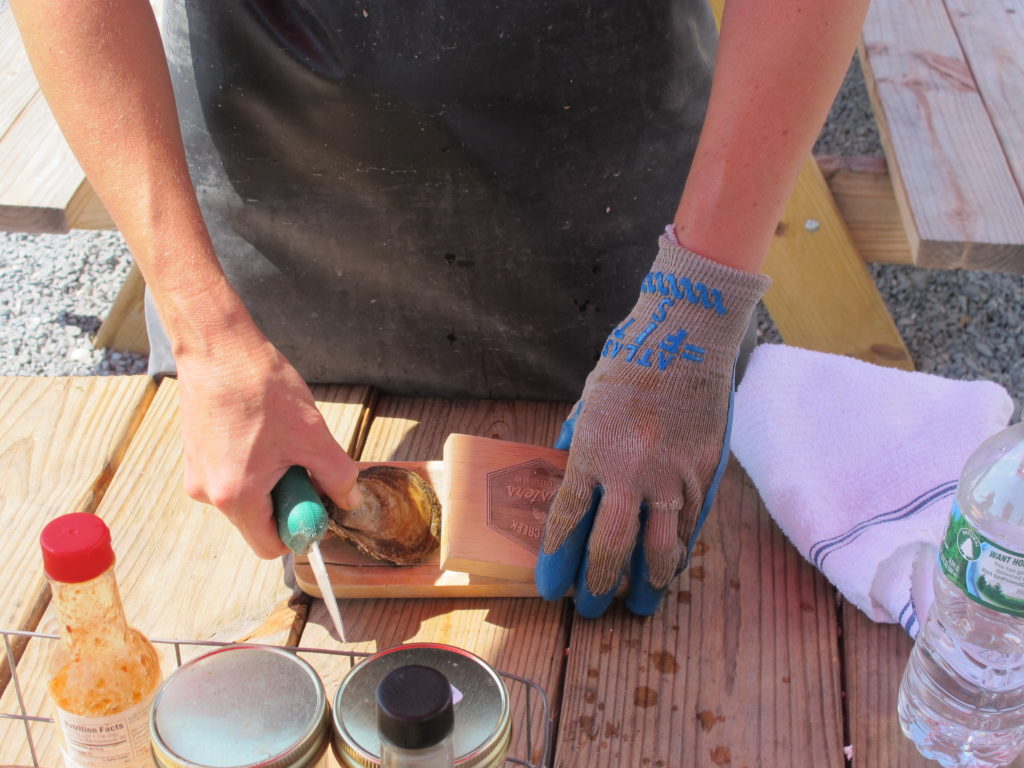 It was time for us to start shucking, and we were well-armed with knives, shucking boards and gloves. There were three varieties of oysters on tap: East End, Shinnecock and Peconic Gold. The East End oysters were from Peconic Bay and packed a very briny punch, perfect for salt fans. The Shinnecocks were from Shinnecock Bay, harvested by the Shinnecock tribe. These had a nice sweetness to them and were meaty, but the shells were more brittle and required some finesse to shuck. "Don't blame yourself if it crumbles," Wile advised. "It's the oyster's fault." Finally, the Peconic Golds had a lovely golden brown hue to them, with strong shells and a nice balance of sweet, salty and earthy mushroom overtones.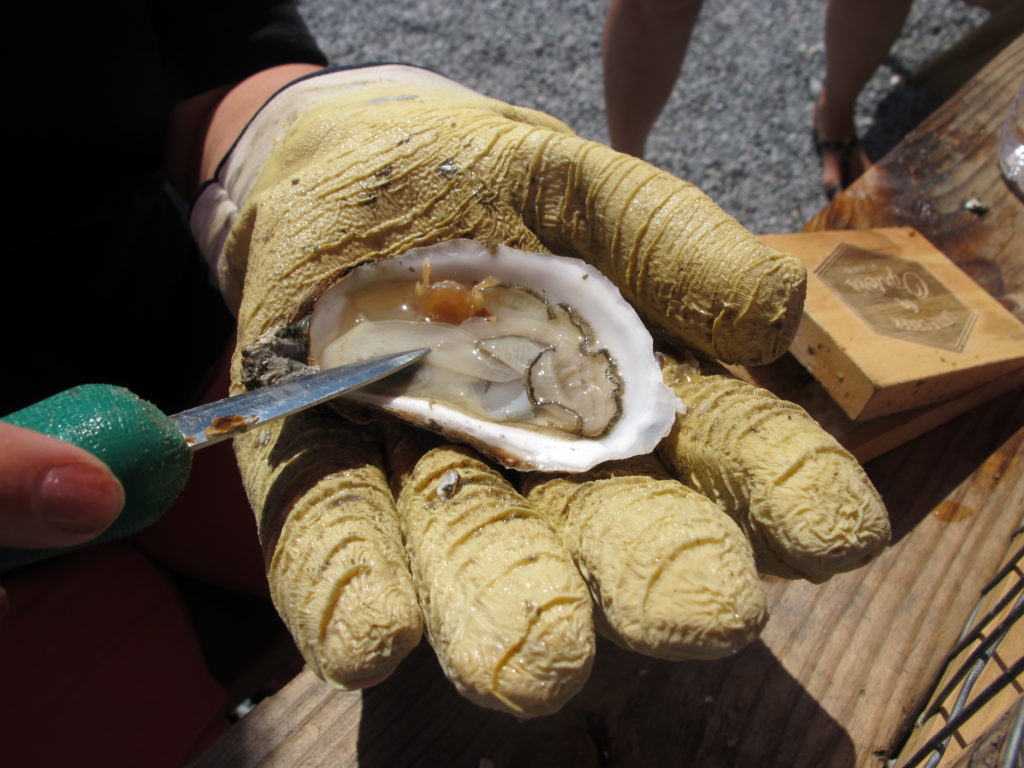 We whiled away the afternoon shucking, chatting, and drinking beer, when suddenly an oyster popped open with an unexpected visitor. A crab! These are pretty common in fresh oysters and there's no harm done to the oyster, but the person who'd shucked the oyster was a little perturbed. "That's a sign of good luck!" said Wile. "You should buy a lottery ticket now!"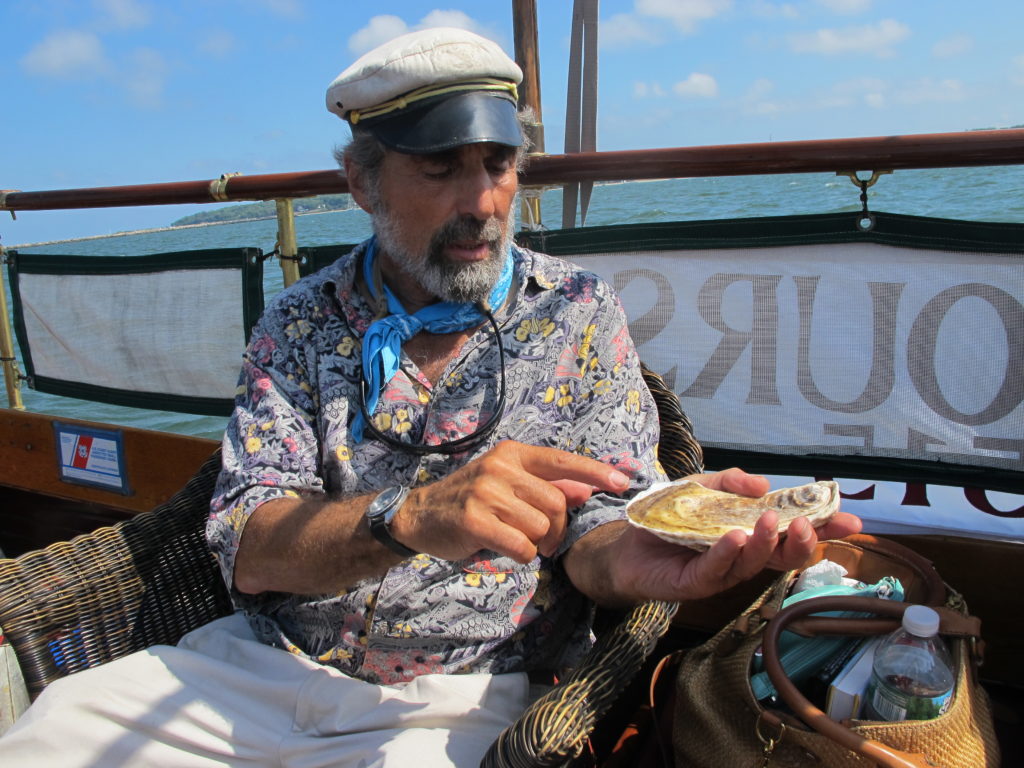 Next, it was time to hop aboard the Glory for a tour of Greenport Harbor. We met Captain Dave, who greeted us with palpable enthusiasm for sharing his knowledge about crassostrea virginica. With a few preliminary warnings ("Pardon my cursing, but if shit hits the fan, put on your damn life jackets."), we set out on choppy waters on the only solar powered electric boat in America. In just 45 minutes, we not only got a tour of Greenport by water, but also a journey through oyster history and its role on Long Island. "In 1936, the oyster industry was valued at $4 million. It's not like that any more. See those condos? That's where the oyster plants were," Captain Dave explained. "What killed the oyster industry was brown tide in the 1980s. Hypoxia caused by nitrogen build-up and fertilizers, because everyone wants a green lawn." Luckily, the Peconic Bay is now much cleaner than it was.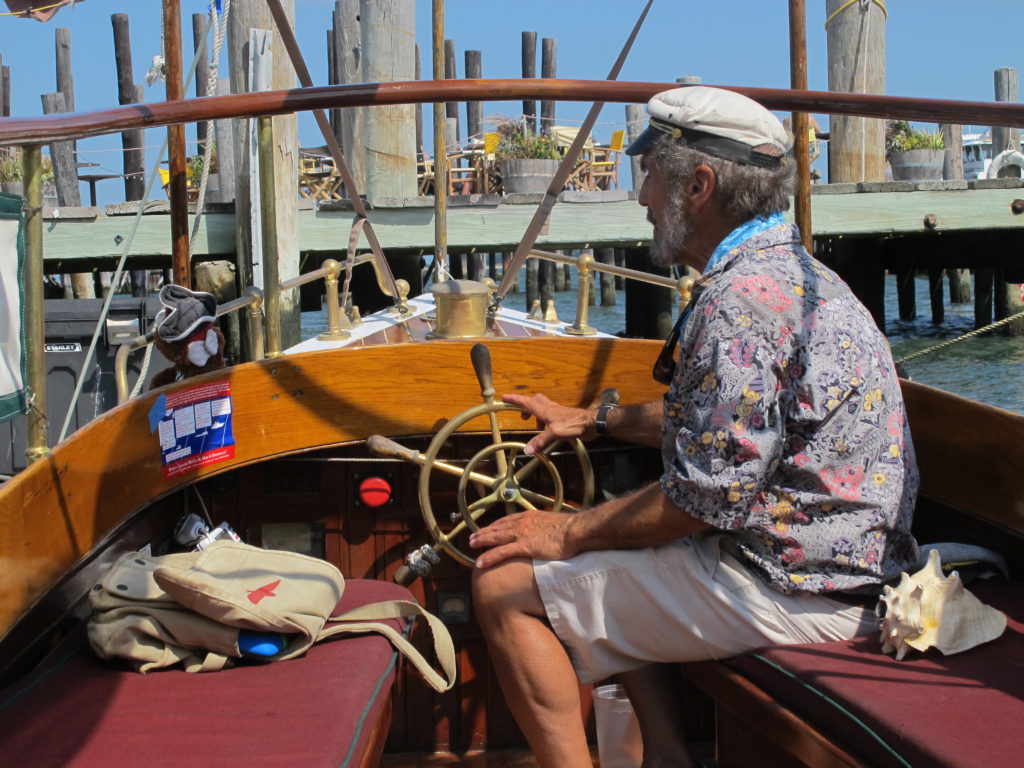 "Oysters filter two gallons of water per hour, that's why they're growing oysters in the Gowanus Canal and off Governors Island in NYC." We continued along the waterfront, as Captain Dave alternated between waving his hands at us and at the steering wheel. (When one passenger seemed concerned about the boat's direction, Captain Dave replied, "Don't worry, there's no other idiots on the water except me.") An abandoned oyster dredge boat loomed in the distance. "Oyster farmers make very little," Captain Dave continued. "Now I don't begrudge anyone making money, but the farmer always makes the least."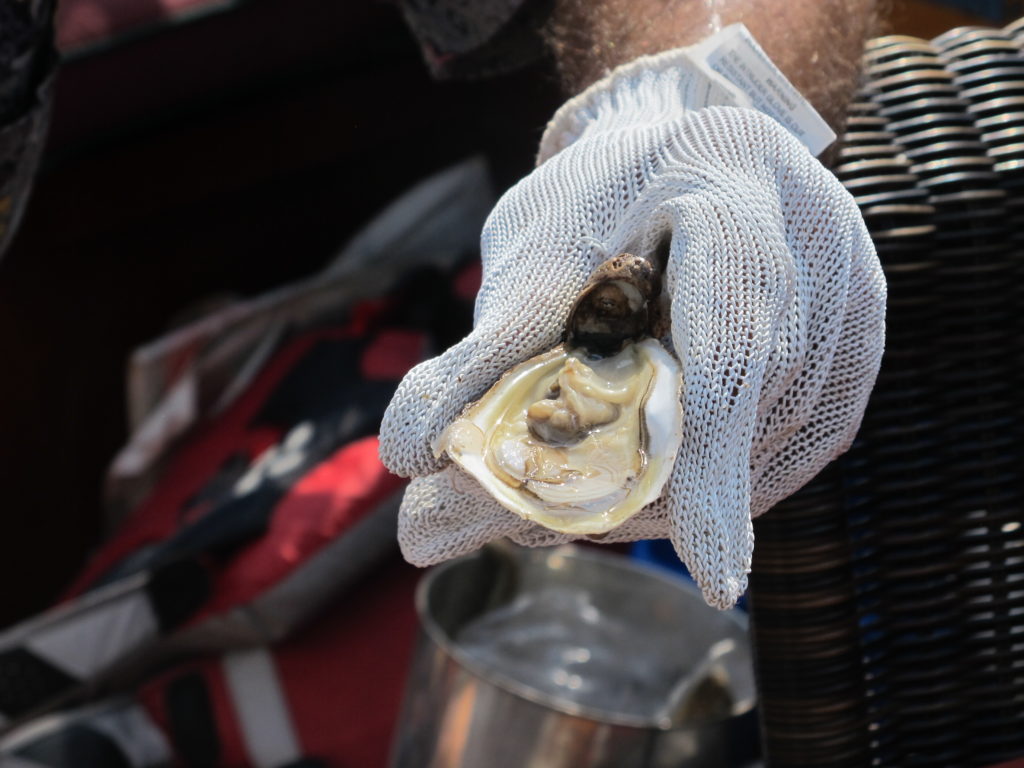 We'd brought a few oyster samples with us from the retail shop, and Captain Dave seized the opportunity to show us his vast array of oyster knives and other shellfish opening implements. "When you open it, it's alive and it should look alive," he said. "Now, my job as a homo sapiens is not to argue with a mollusk. Sometimes sweet, endearing words work. Sometimes you have to use more aggressive methods." Captain Dave took a pair of sturdy shears and began cutting away at the oyster's shell, then switched tactics and grabbed a knife. "Peconic Bay is under siege," he went on. "We used to make money on shipbuilding, fishing and oystering." The oyster popped open and Captain Dave handed it to me. "We need to eat sustainable food," he said. I slurped the oyster, feeling the salt on my lips. Back at the dock, Captain Dave bid us farewell by blowing into a conch shell. "Look us up on Facebook, Glory Going Green in Greenport!" I left the boat with a fistful of Glory temporary tattoos and a new appreciation for clean water and industry.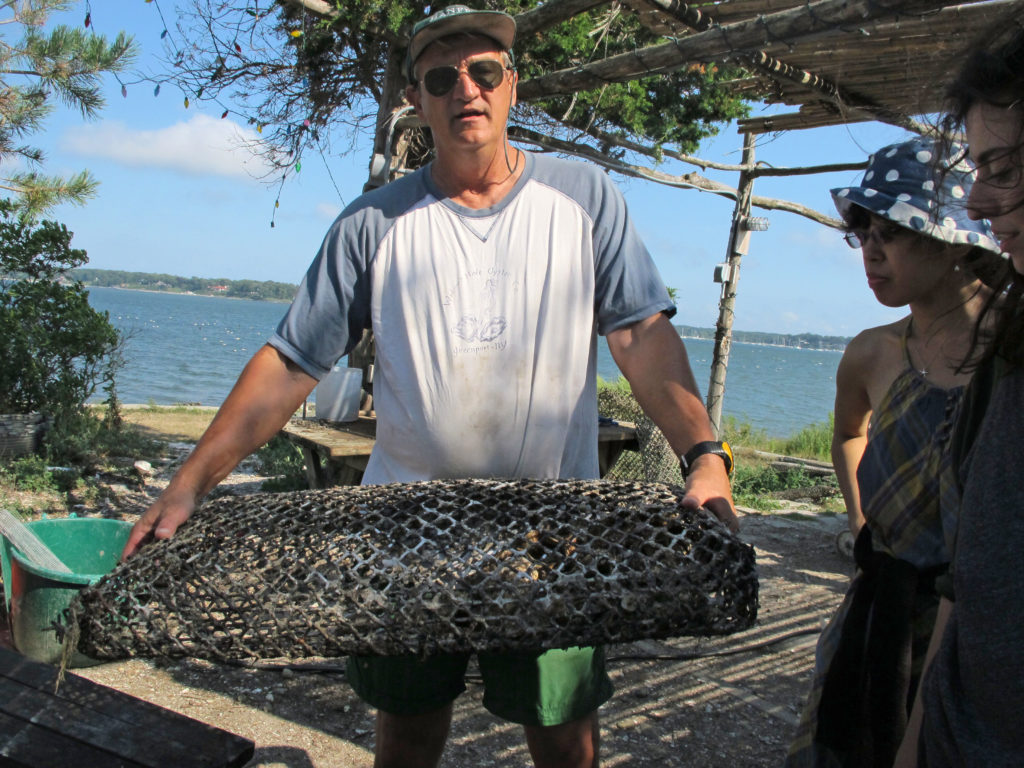 Just a short walk later, we'd made our way to Widow's Hole, home of the oyster featured on many of New York's top restaurants, including Eleven Madison Park and Le Bernardin. We were greeted by Mike and Isabel Osinski, their hardworking daughter Susanna, and four wagging dogs. They were in the midst of drying out bags (to remove biofouling) and sorting the oysters. "We air dry to get rid of the boring sponges and sea squirts, it really helps clean up the oysters," said Mike. "The cleaner the oyster is, the more chefs love you."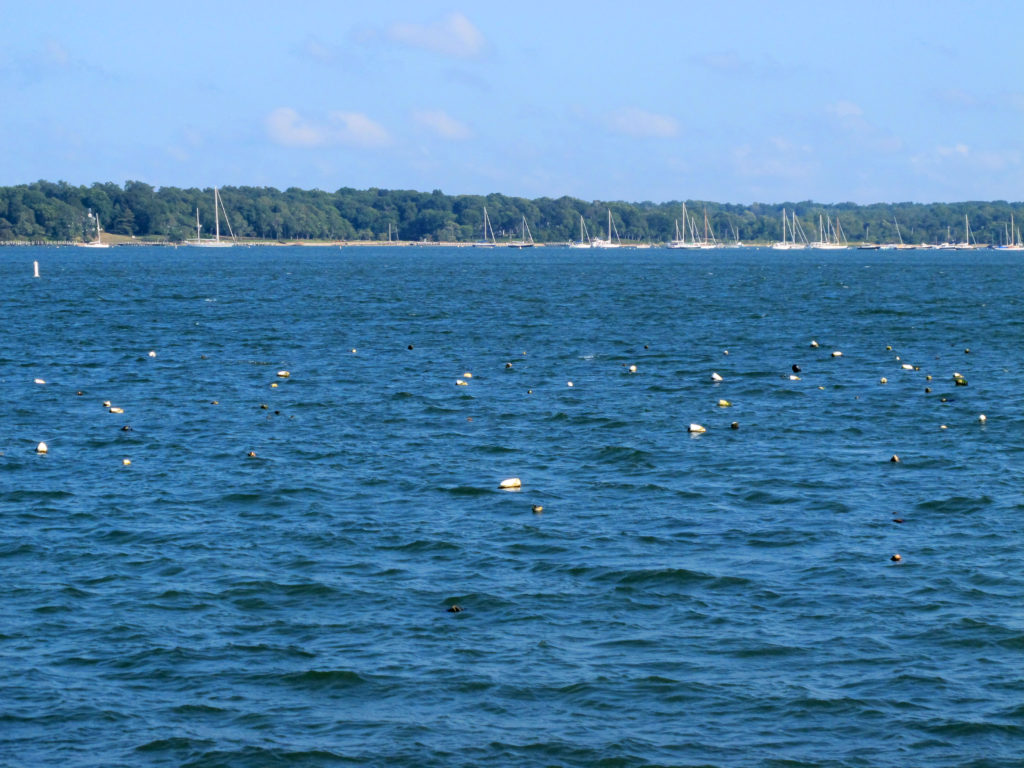 "It's beautiful," someone said. "How did you get this land anyway?" Mike smiled and explained that he had been running a software company in NYC that was sold in 2000. They purchased this property, which included five acres of land above water, and three acres below water. Though he had no oyster growing experience at the time, he got permits and started farming. "My office used to be at Union Square. So when I had these oysters, I called up Ben Pollinger, who was then at Union Square Cafe, and is now at Oceana. And after trying the oyster, he called Tom Colicchio, who was at Gramercy Tavern, and they talked to more people, and now it's been over ten years that we've been growing oysters."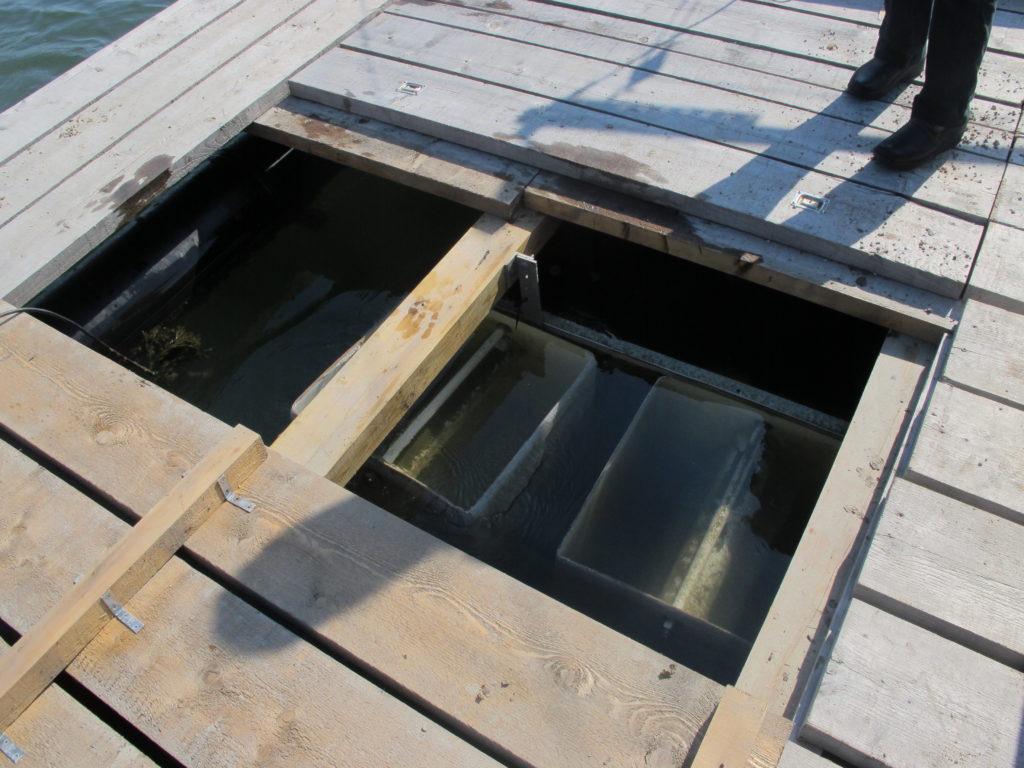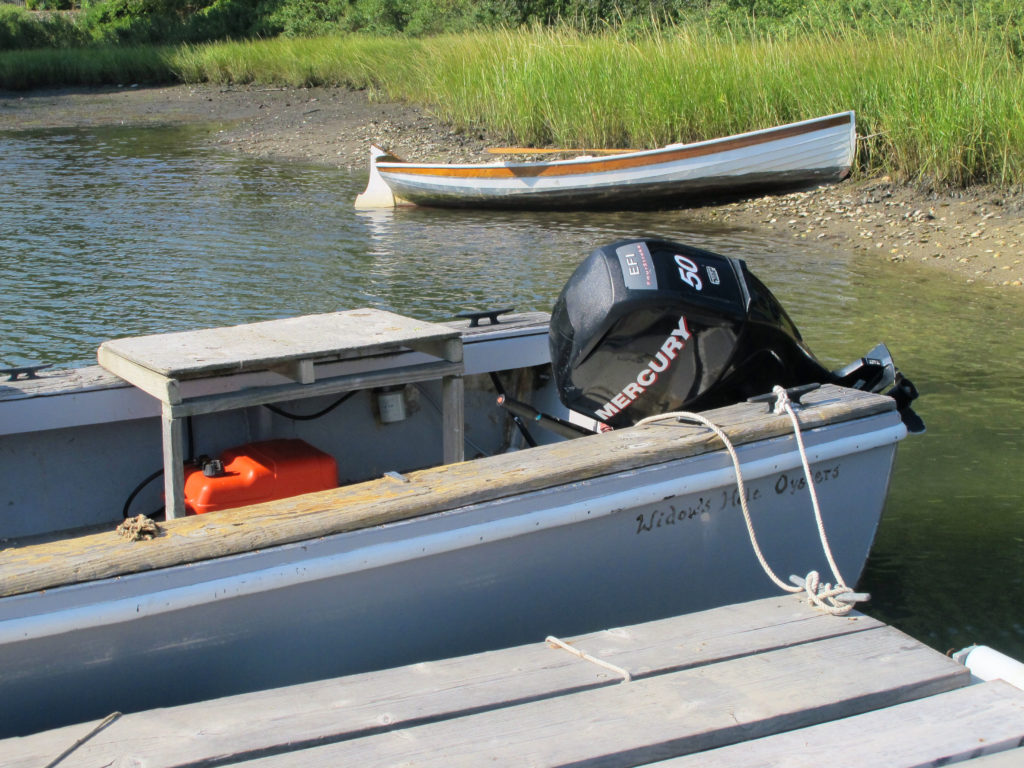 We walked over to the nursery, where Mike showed us the farm's juvenile seed and some specialty batches of oysters grown for specific restaurants. "Do you employ anyone?" we asked. Mike laughed, "We go through people pretty fast, it's hard work. But my son's been driving a boat since age 3, and my daughter just came back from working at an oyster operation in Normandy. We're definitely a family farm here."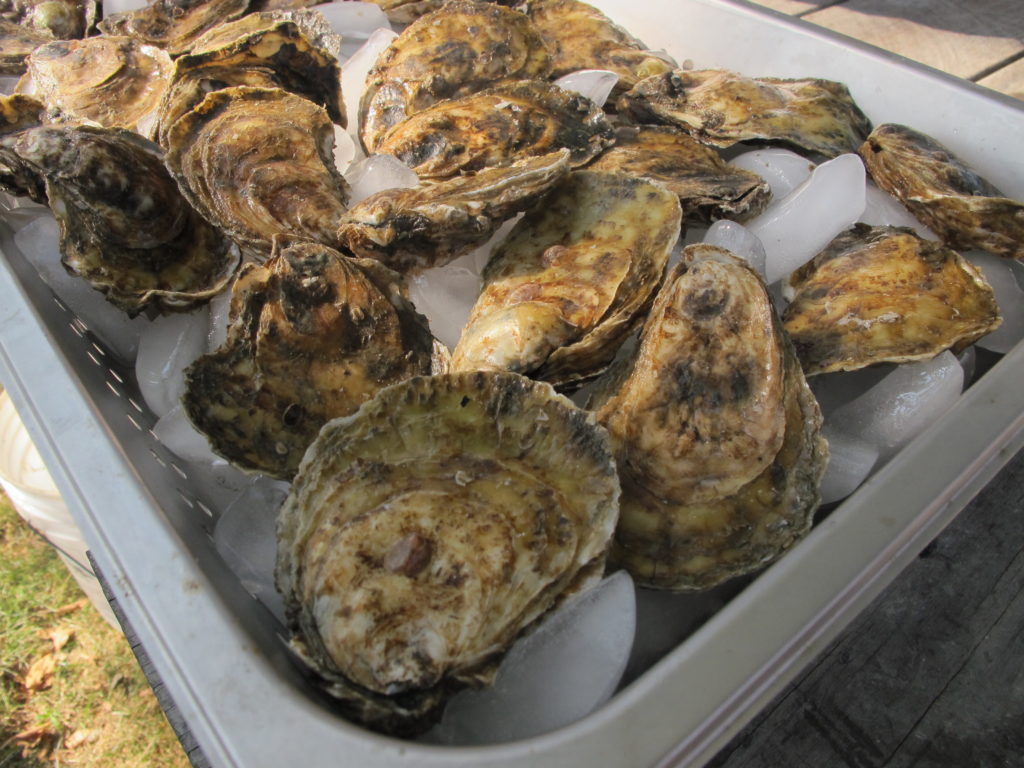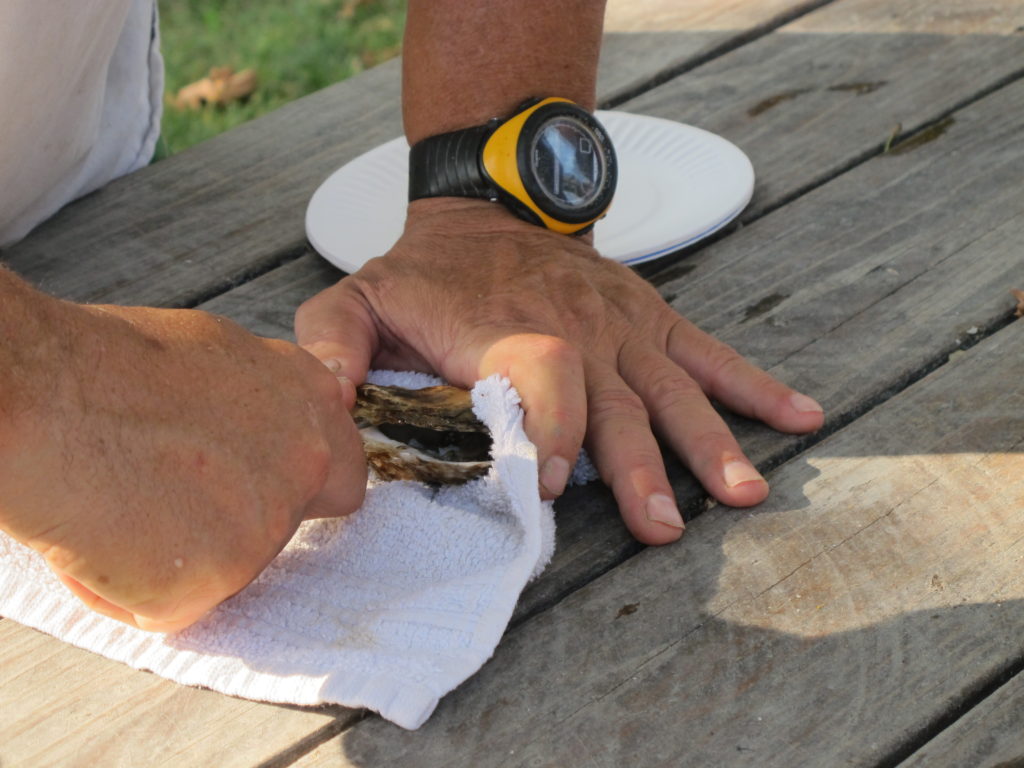 Under the trees, we gathered around a table with buckets of Widow's Hole oysters. "Most of the time oysters are sold at 16-18 months, but these are three year old oysters, solid and meaty. Did you know people used to eat more oysters than beef?" Mike and Susanna shucked away, passing out oysters to the crowd. A mason jar with Isabel's chili sauce added a zippy heat to the cool salt of the oysters. "So, would you say there's good money in the oyster business?" someone asked. Mike chuckled, "There is if you don't pay your wife and kids!" He paused for a moment. "We get the beauty and peace of being out here on the water, and we also get to go into New York once a week, where there's anything you could want." Mike threw back an oyster and grinned. "It's a good balance."