In the fall of 2012, Forty North Oyster Farm had just begun planting their first crop of oysters. Mere days later, Hurricane Sandy hit the Eastern seaboard, destroying coastal towns and remaking the shoreline. "Of the 300 or so houses in Mantoloking, 50 or 60 of them were missing after Sandy," said founder and farmer Matt Gregg. "We were cleaning up plastic and debris for months, and it was incredible how the contents of people's lives were scattered all across the bay."
One year later, the farm has certainly gone through growing pains but is stronger than ever after the disaster. Matt is expecting his first commercial oyster crop to go to market next spring, and looks forward to sharing his oysters with diners and chefs. He recently added a new partner to the Forty North team, NYC restauranteur Chris Cannon, who will be opening a new restaurant in Morristown next spring. Located inside the historic Vail Mansion, the restaurant will feature Forty North as the house oyster. It is a well-deserved coup for the farm after a rough year.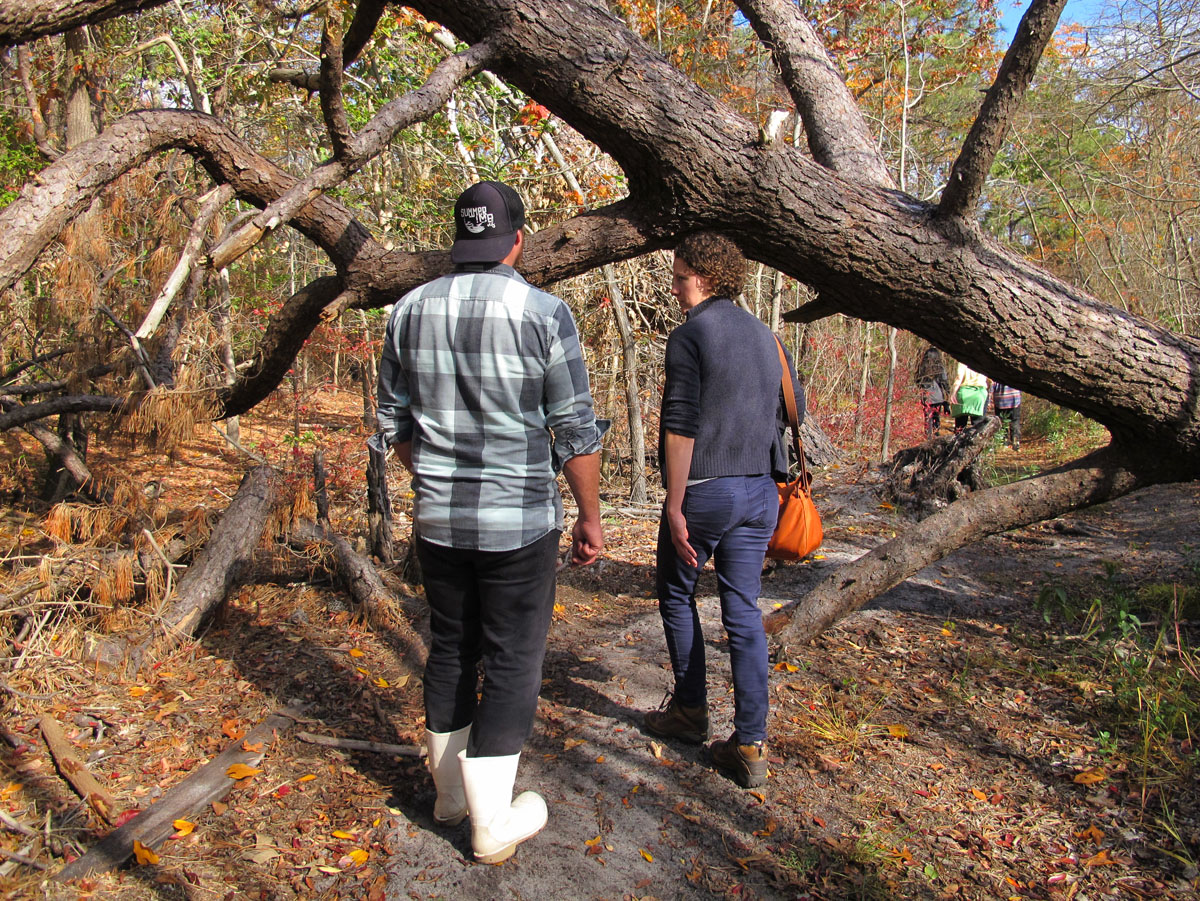 Last weekend, the NY Oyster Lovers Meetup took a field trip to Forty North Oyster Farm to meet Matt and his crew members Scott and Sarafina. The drive to Mantoloking was scenic, though if you looked closely, you could see oddly placed sand dunes and abandoned boats, the reminders of Sandy's power.
We began with a hike through Forsythe Wildlife Refuge, a network of coastal wetlands and marshes. Hawks flew overhead the flame-tipped trees, as we made our way toward the water. Here too there were souvenirs from the hurricane: random planks, lattice fencing, plastic lids and more.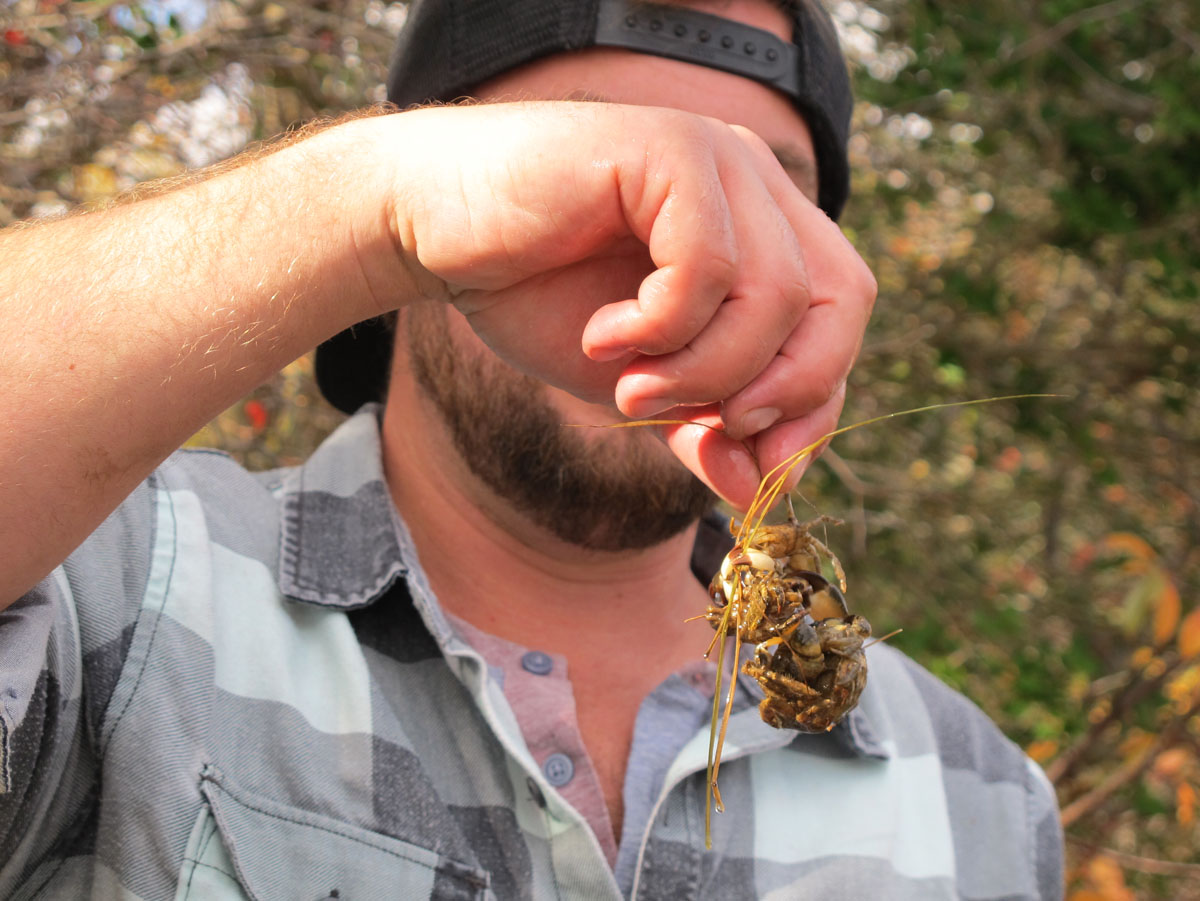 At the end of the trail, we reached the water, where a picnic table loaded with oysters awaited us. Even better, Matt had a surprise. "These are mud crabs," he explained as a crab cluster dangled from his finger. "They hang out inside the oyster bags, so we've been trying to find ways to make use of them." Mud crabs are tiny, about the size of a quarter and they never grow more than an inch or so wide at adult size.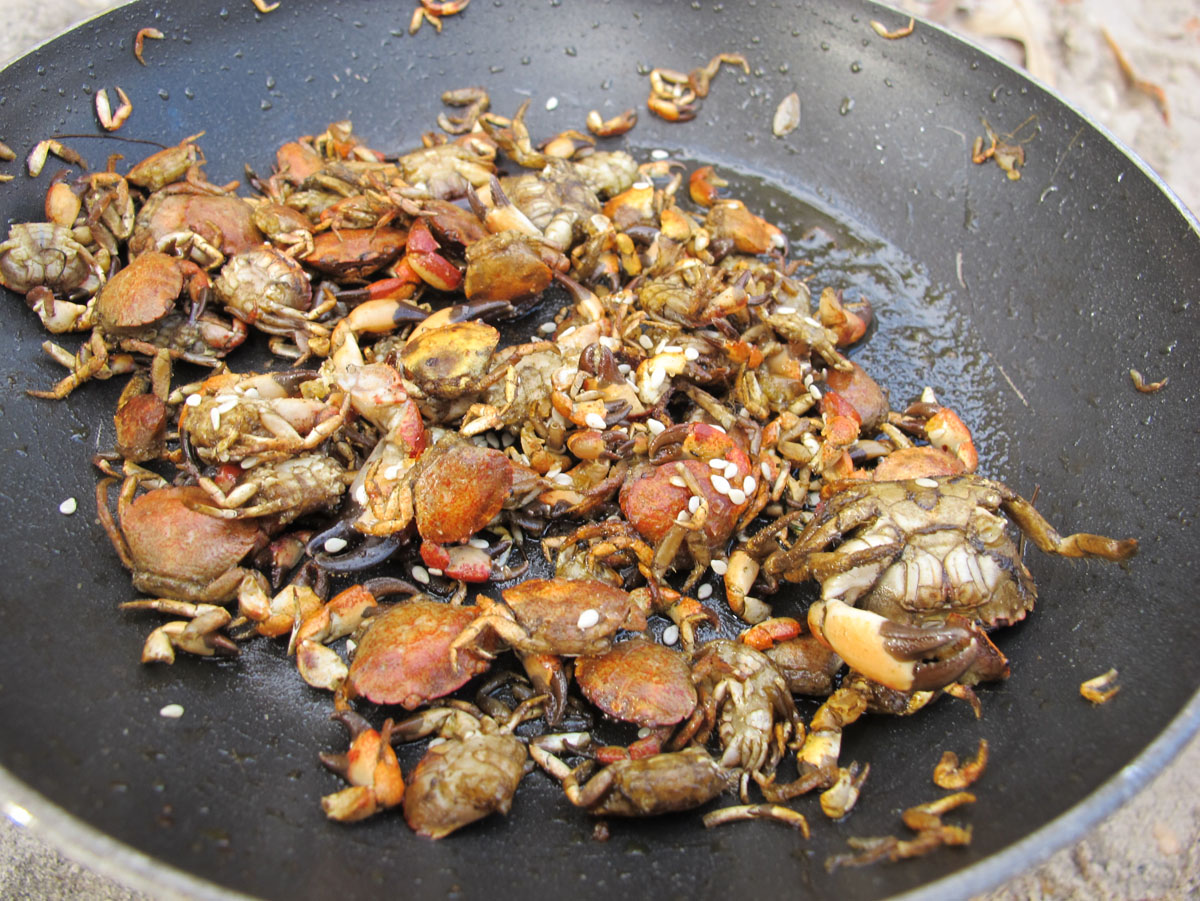 As it turns out, the solution is to fry the mud crabs and add a dash of Creole seasoning and sesame seeds. Light and intensely crabby, it was something like eating crab popcorn or crab chips. "Crab crack, that's what you should call it!" we said. So if you spot "crab crack" listed on Brooklyn menus in the future, remember that you saw it here first.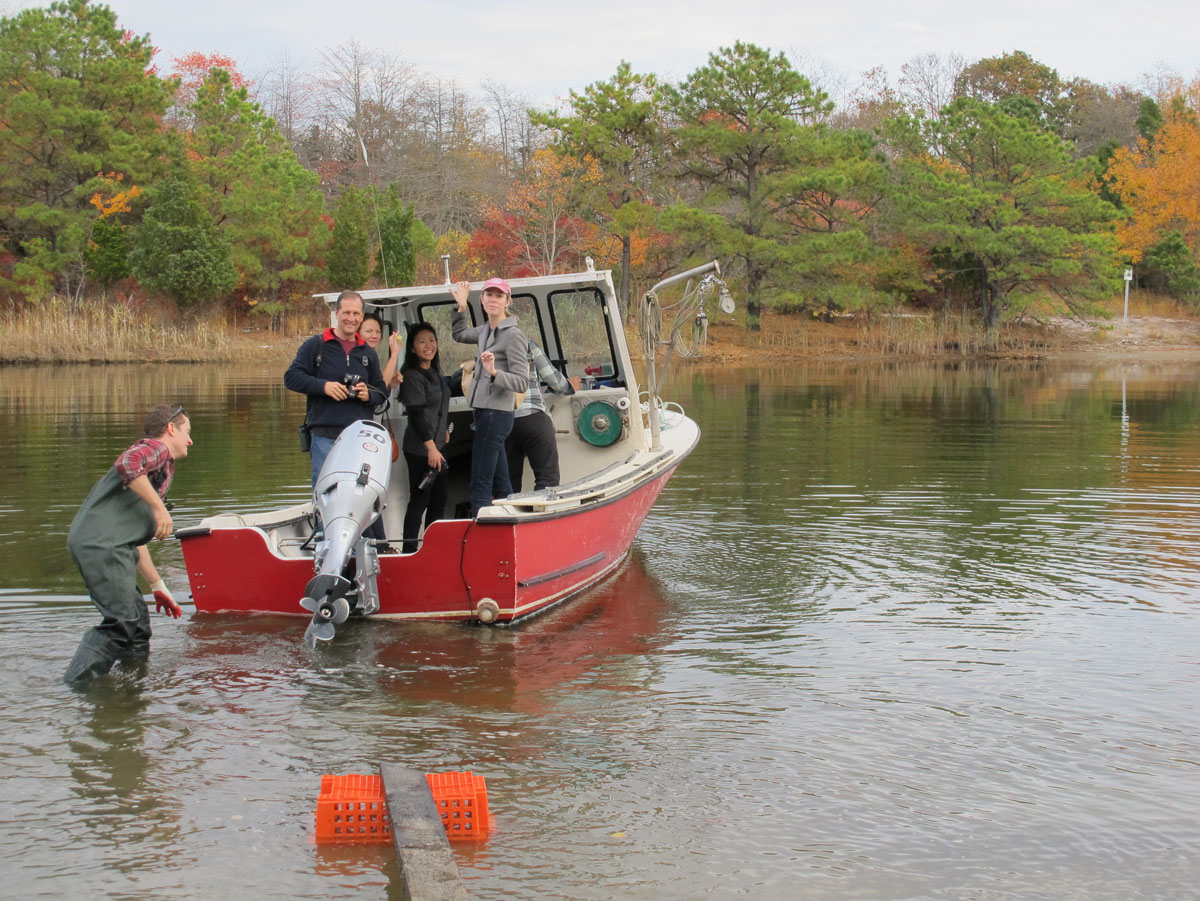 Meanwhile, Matt was taking small groups out on the water to see the oysters. The lagoon is protected by barrier islands from the ocean, so the waters here are calm while still holding moderately high salinity.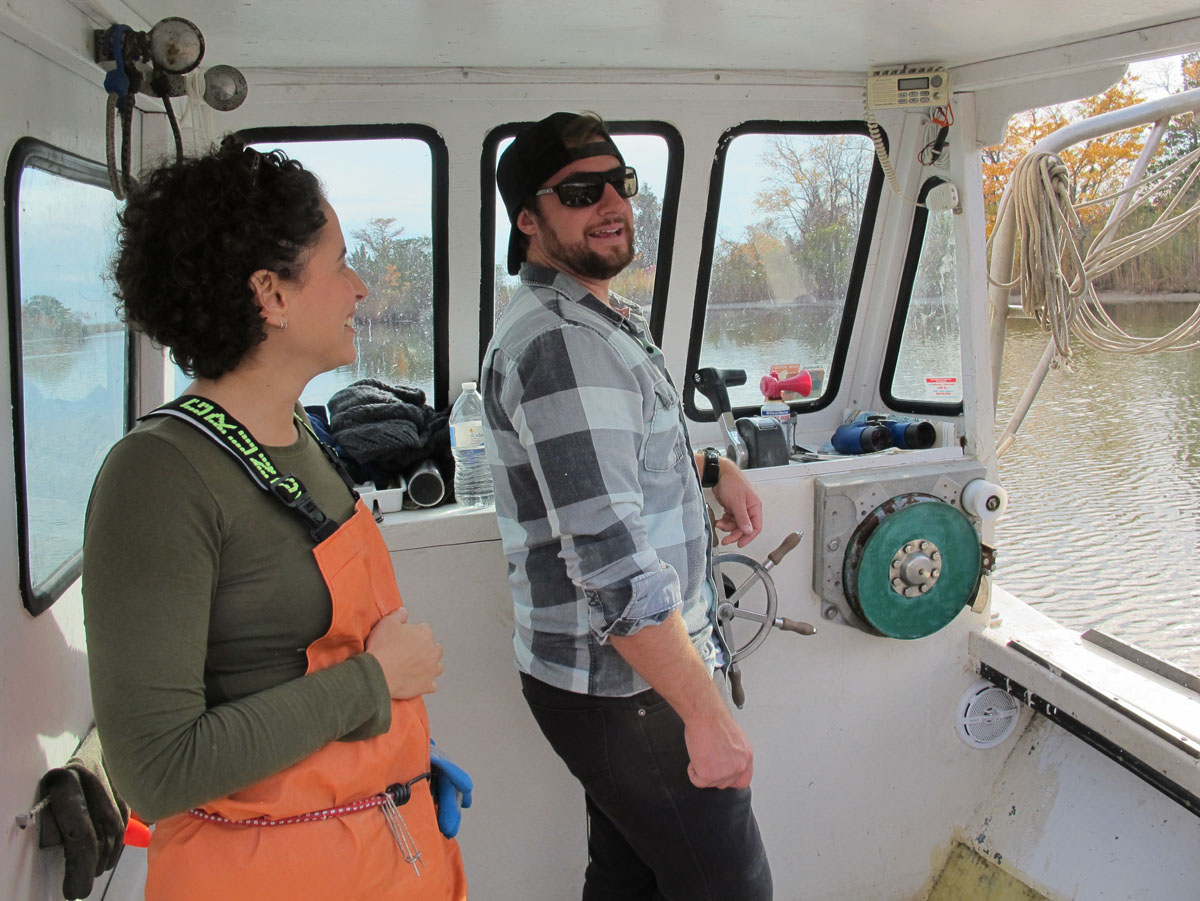 "Why did you decide to grow oysters here? What makes for an ideal oyster growing site?" we asked. "Well, to be honest, I'm growing oysters here because this is the furthest north lease I could get," said Matt. He went on to explain that an ideal site would have shallow water to make it easier to jump in and work while standing, rather from a boat. He would also prefer to have a hard-packed sandy bottom, but the seafloor here is soft mud.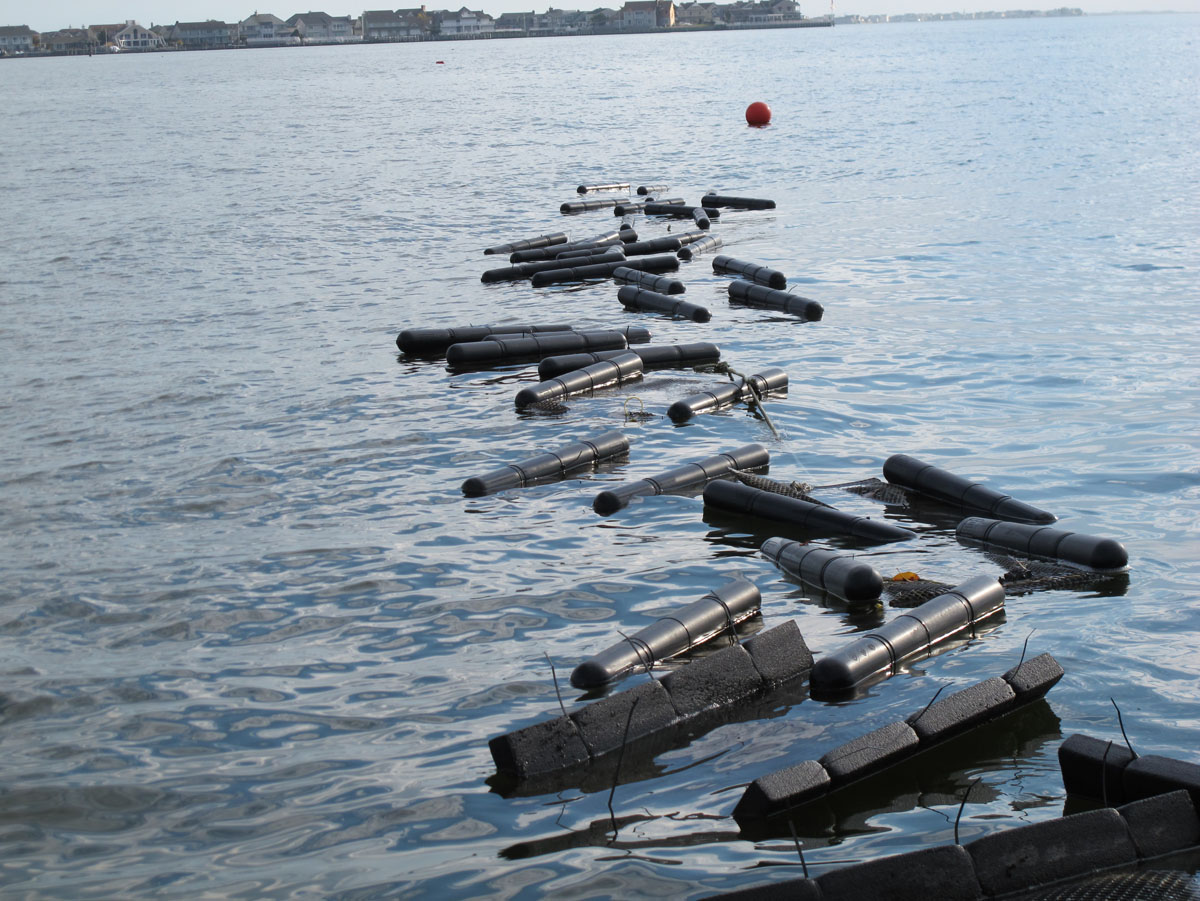 Hence, while other oyster farmers in South Jersey use a rack and bag system to grow oysters just above the seabed, Matt has developed floating lines to grow his oysters at the water's surface. It is more labor intensive, but the wave action does help the oysters stay clean and reduce fouling.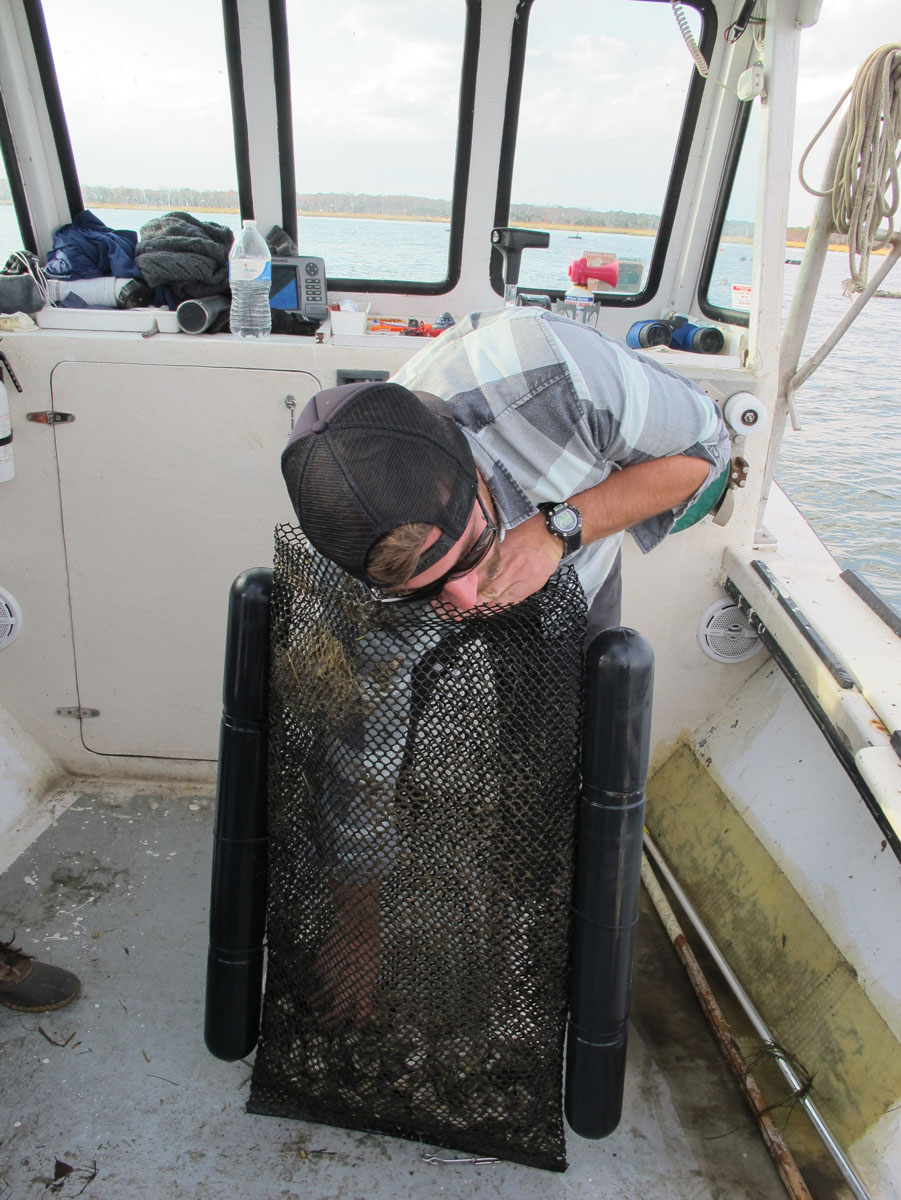 Each of these bags contains about one thousand 1.5-2″ oysters, and they are strung across the lagoon in neat lines or cages of six bags each. I couldn't help notice that the oysters were out in the open for the taking. Is theft a concern? Matt shrugged and said the cost of monitoring equipment was prohibitive, but he hoped that his neighbors and fellow baymen would alert him if anything suspicious were to happen. Moreover, recreational boaters and kayakers usually don't know what these bags are for, and wouldn't be able to lift the 500-lb cages out of the water anyway.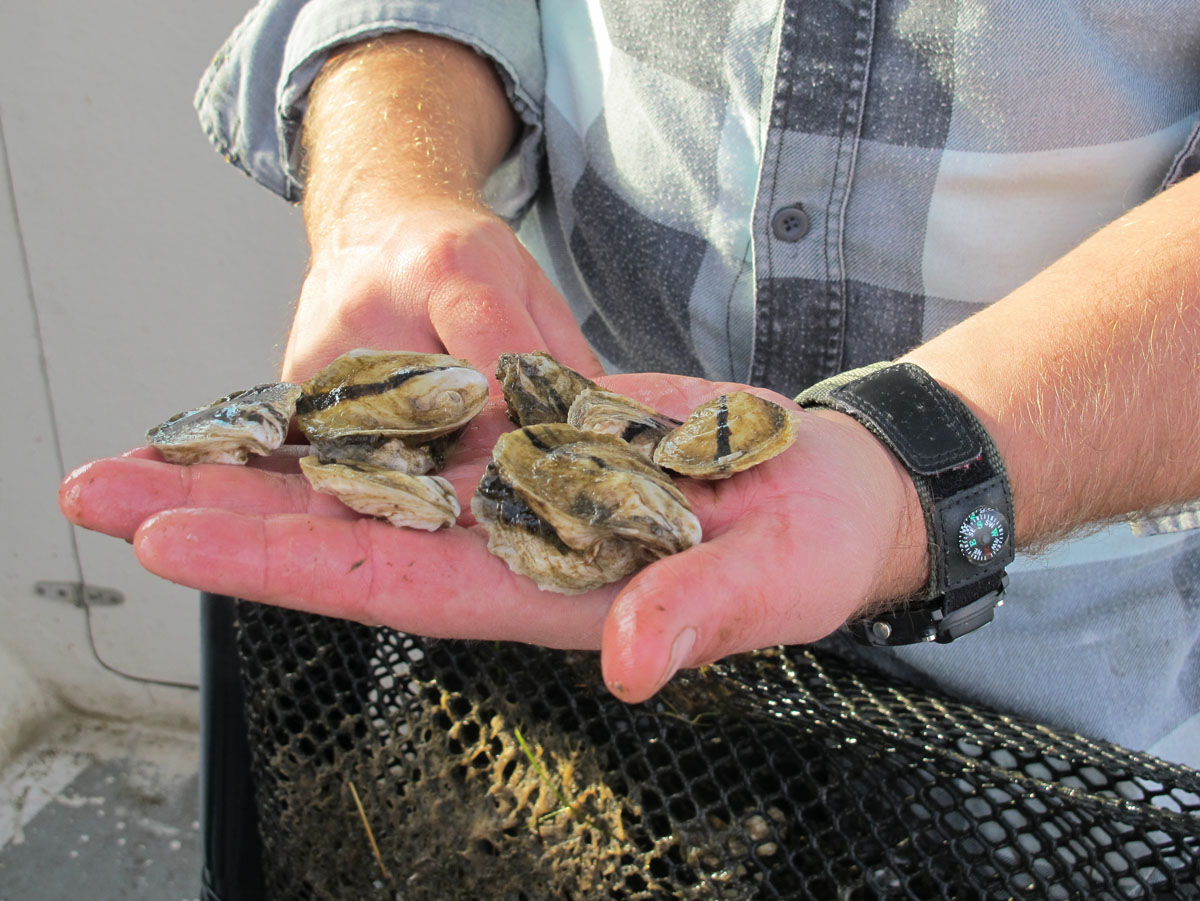 Matt showed us the new oyster crop, a handful of dainty, well-manicured shells with a distinct black stripe. To further enhance his oysters, Matt plans to build a floating workstation platform next year, where he can easily sort, grade and tumble his oysters, giving them more uniform and deeper cups.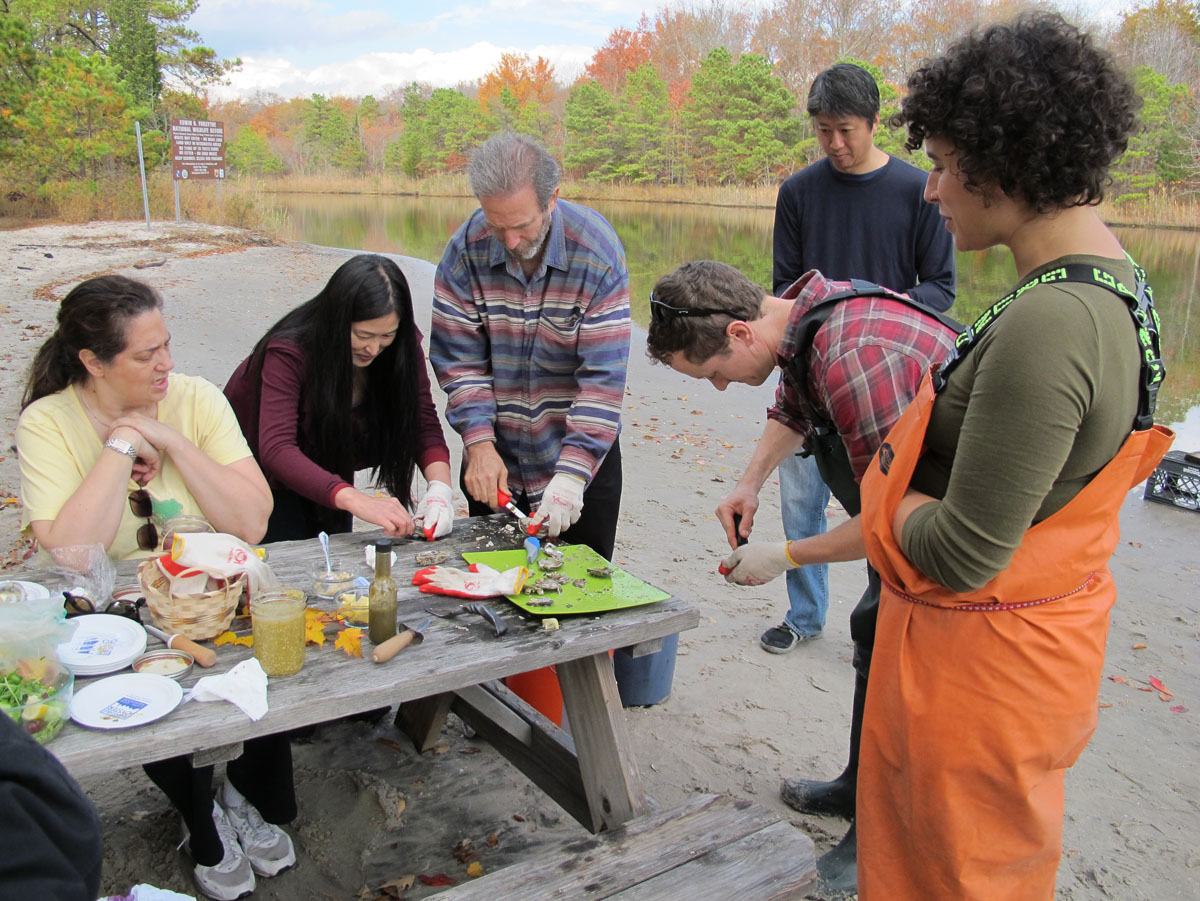 Back at the picnic table, we shucked away at the Sandy survivor oysters from the first year's planting. They were big, gnarly and misshapen, a far cry from anything that would grace a cocktail tray, but we understood that heart and sweat had gone into them.
Not everyone had shucked before, and these oysters were definitely challenging even for experienced shuckers. But we all took a turn, and with strong wrists, determination and one snapped knife blade, even the newbie shuckers were eventually prying open oysters and tilting their heads back for that perfect salty slurp. "That may be the best oyster I've ever tasted," one person sighed.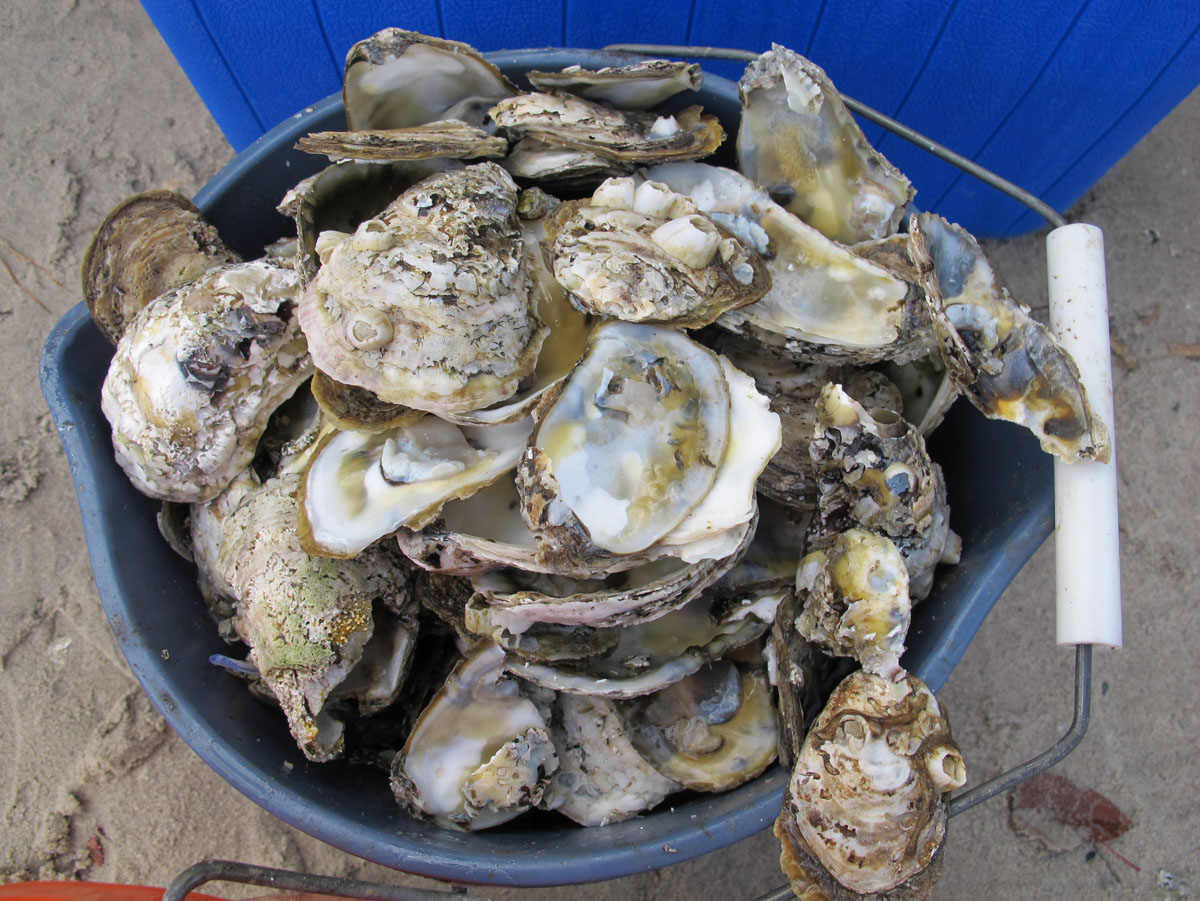 The afternoon over, the discard bucket was full of shells, ready to be scattered back into the bay. I sat back in a contemplative mood as the sun ambled downward. "How did you decide to become an oyster farmer?" I asked Matt. "Well, I've always loved water and being around it," he said. "When I was in school studying fisheries management and aquaculture, professors kept telling me there was no way to make a living doing what we were learning. Through oyster farming though, I think I've finally figured out a way to make a living on the water and do something great for the environment too."
If that's not the good life, then I don't know what is.
For more information on Forty North Oyster Farms or to drool over their gorgeous natural surroundings, visit their Facebook page: https://www.facebook.com/FortyNorth