Lobster rolls. Cameras. Salmon fillets the length of my arm. Welcome to the Boston Seafood Show. Last weekend, the W&T Seafood team traveled to Boston for this gathering of the world's most knowledgeable and passionate seafood purveyors, chefs, and researchers. Some of us have attended the show every year for decades; others were visiting for the first time. For the far-flung seafood industry, with many folks who work throughout the year via phone and internet, it was heartwarming to see old friends and partners reunited in the same room.
The show has two main components: a trade show floor with over 945 exhibitor booths and seminars on issues affecting the seafood industry. The topics range from regulatory changes, like the new Food Safety Modernization Act, to panels on how to market unfamiliar seafood products to consumers, to technical sessions on aquaculture systems. At a panel on job creation in the seafood industry, not one but three US senators were present, underlining the importance of seafood processing and sales in the nation's economy.
For the first day, I wandered the trade show floor, looking for new products and trends and soaking in as much information as possible. My tote bag quickly filled up with brochures, note cards and other sea-themed pieces of swag. If anyone needs a shrimp-shaped pen, just let me know.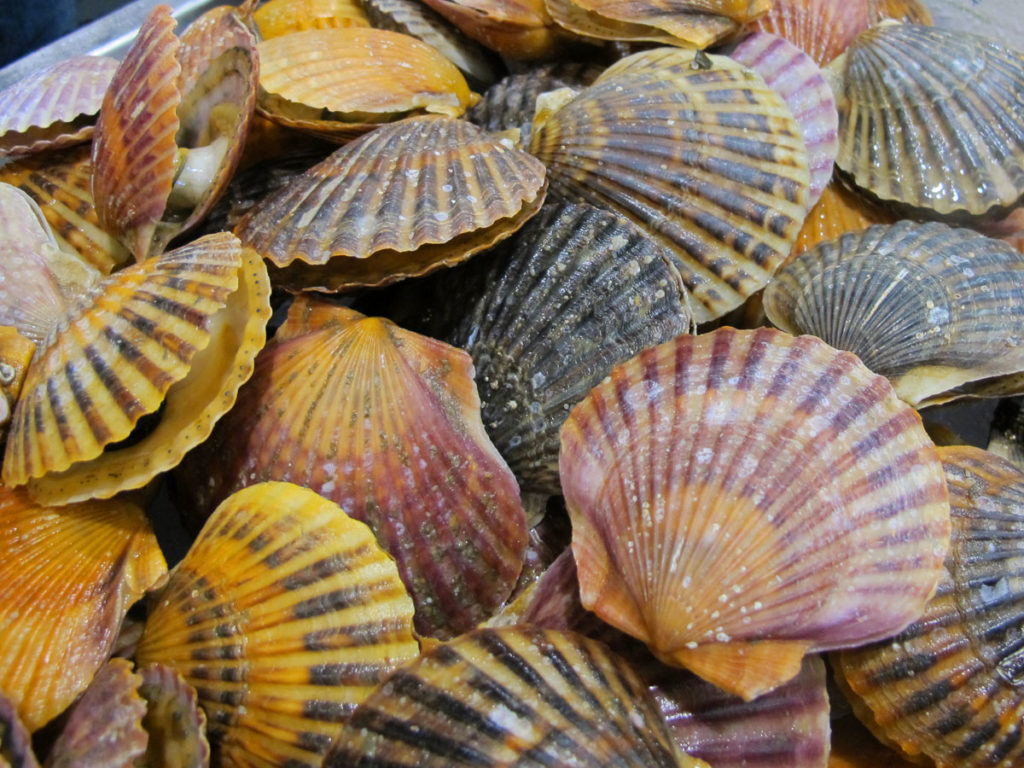 Lovely rose and orange hues on these scallops, they're almost too pretty to eat!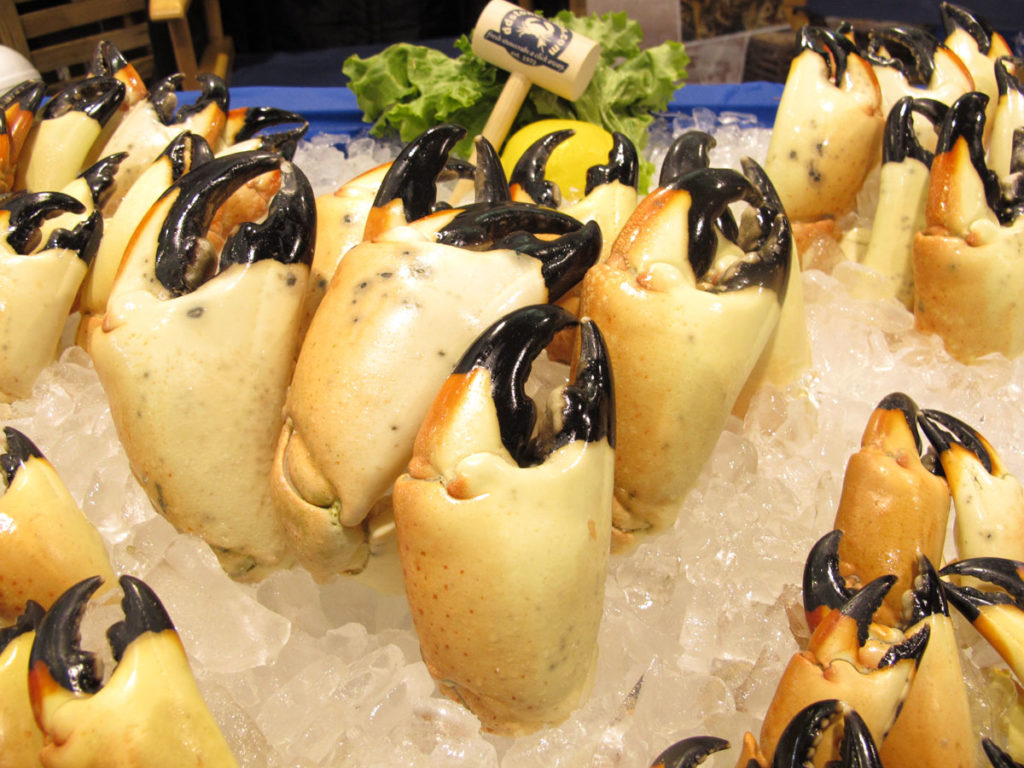 A formidable display of stone crab claws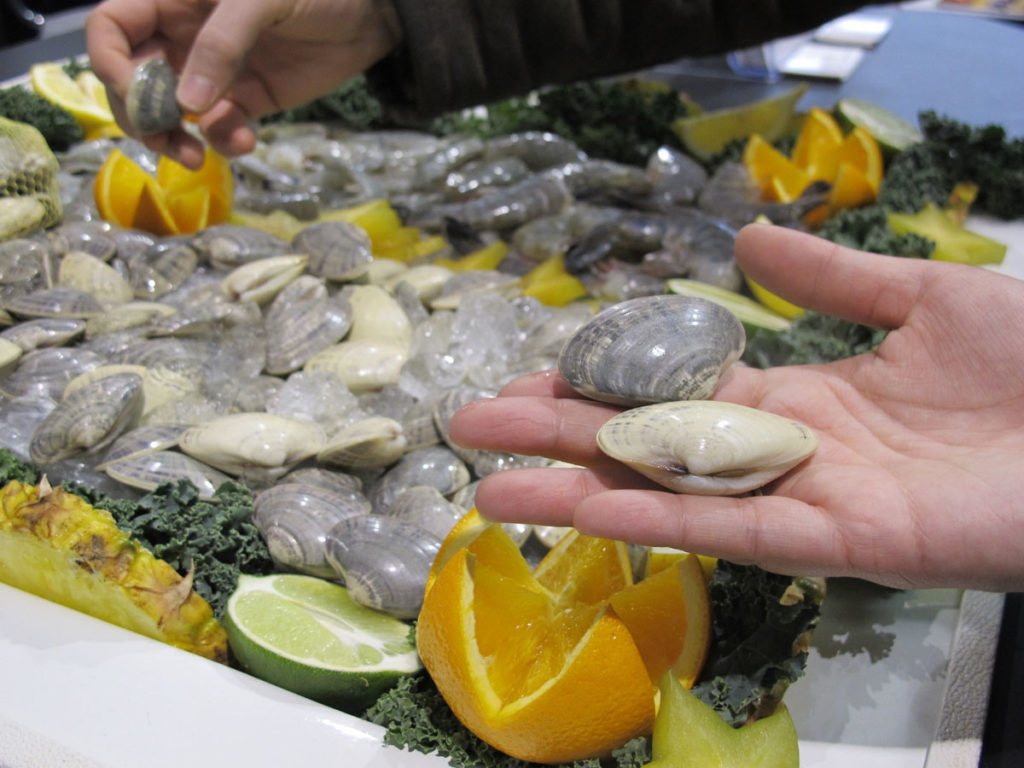 These Florida clams have smooth, pastel shells and turn pink when cooked.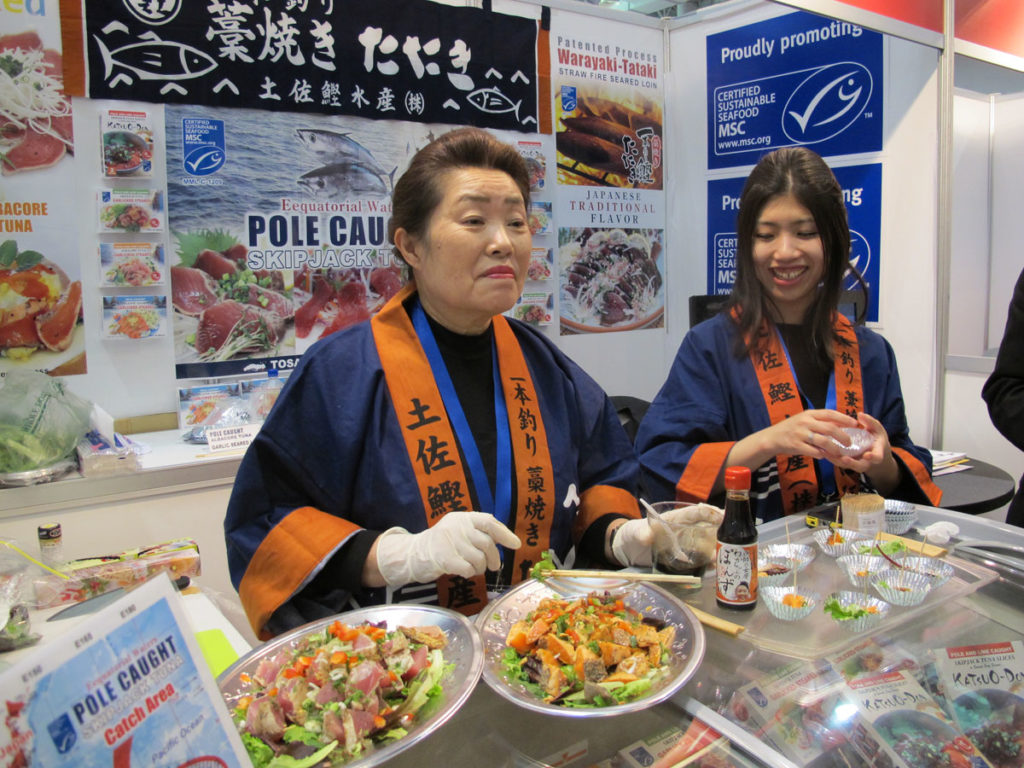 Exhibitors from 42 countries were present at the show, not surprising considering that 86% of the seafood we eat is imported, and those fish are caught all over the world. This Japanese company was demonstrating a salad with pole-caught skipjack tuna, caught near the Marshall Islands in the Pacific.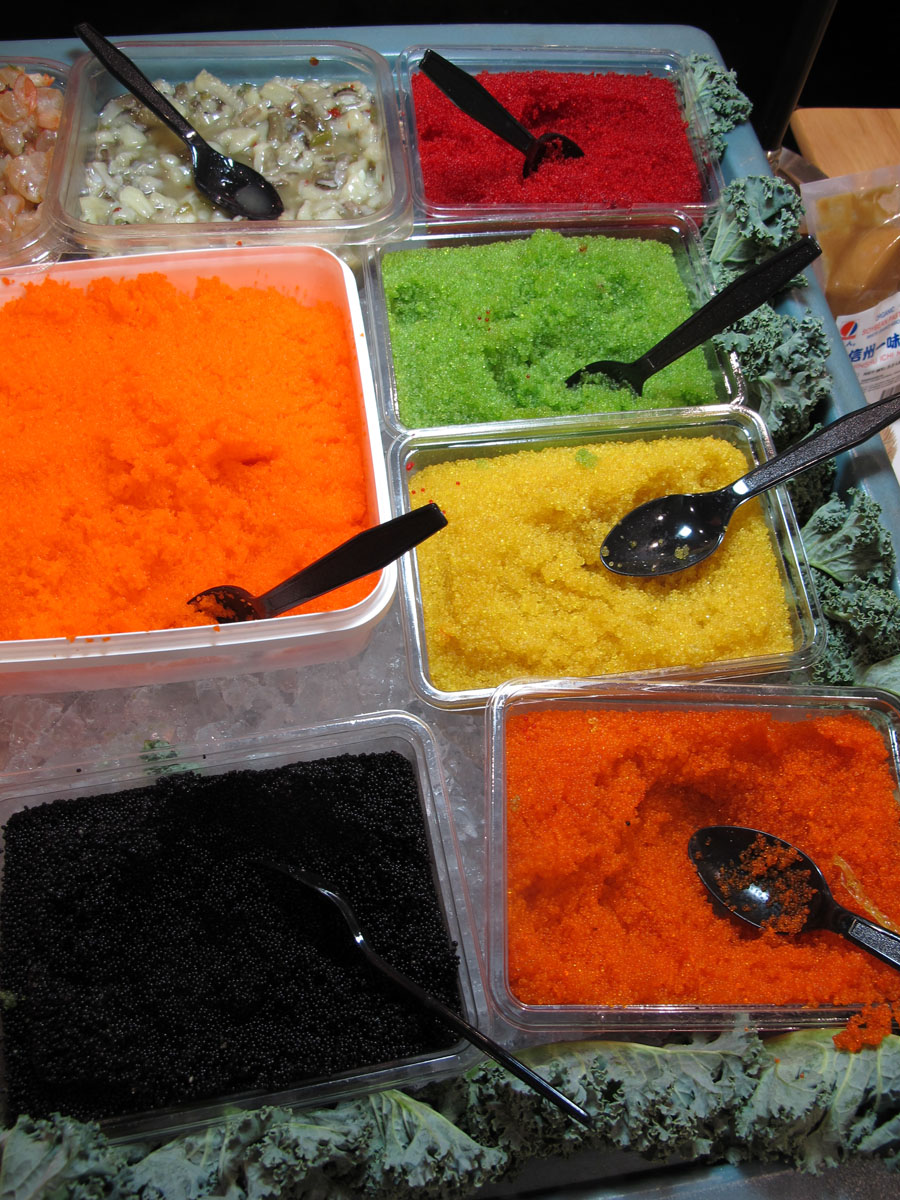 Consumers often think of seafood as simply being "white fish" and "red fish," but there's quite a lot of diversity in the offerings of our oceans. Here, we have a rainbow of roe and lobster tails from around the world.
After the recent Boston Globe investigation on mislabeled fish, it's clear that traceability is an important issue for consumers. Many companies were offering smartphone apps to provide more transparency about the origins of a piece of seafood, including options to scan barcodes right at restaurant tables.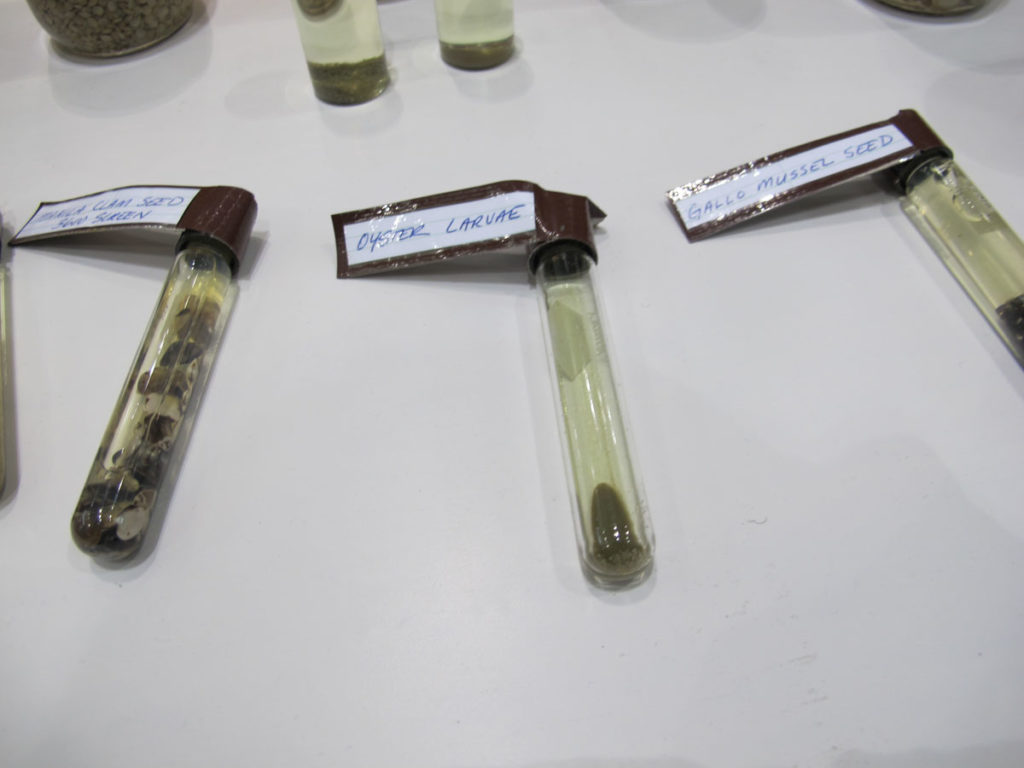 Of course, we stopped by booths featuring oysters too, sampling bivalves from Prince Edward Island to Mexico to Korea. Above, you can see a small test tube of oyster larvae.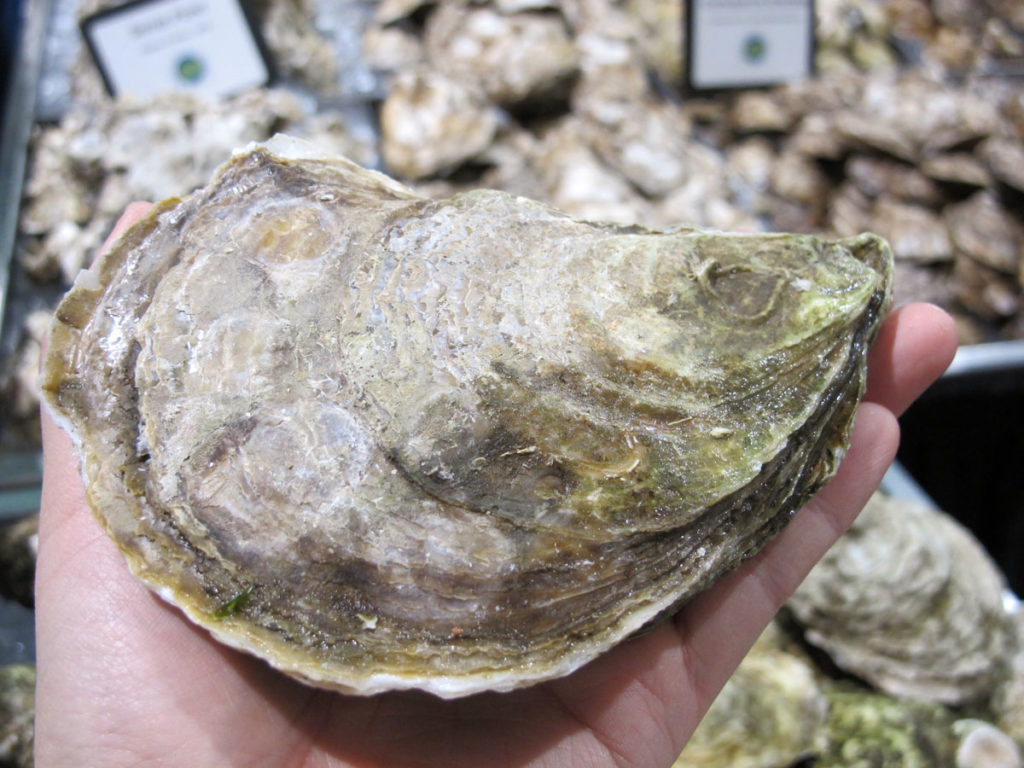 If left undisturbed with ample food for many years, the Eastern oyster can grow to the size of a dinner plate! Would you try a jumbo oyster this large?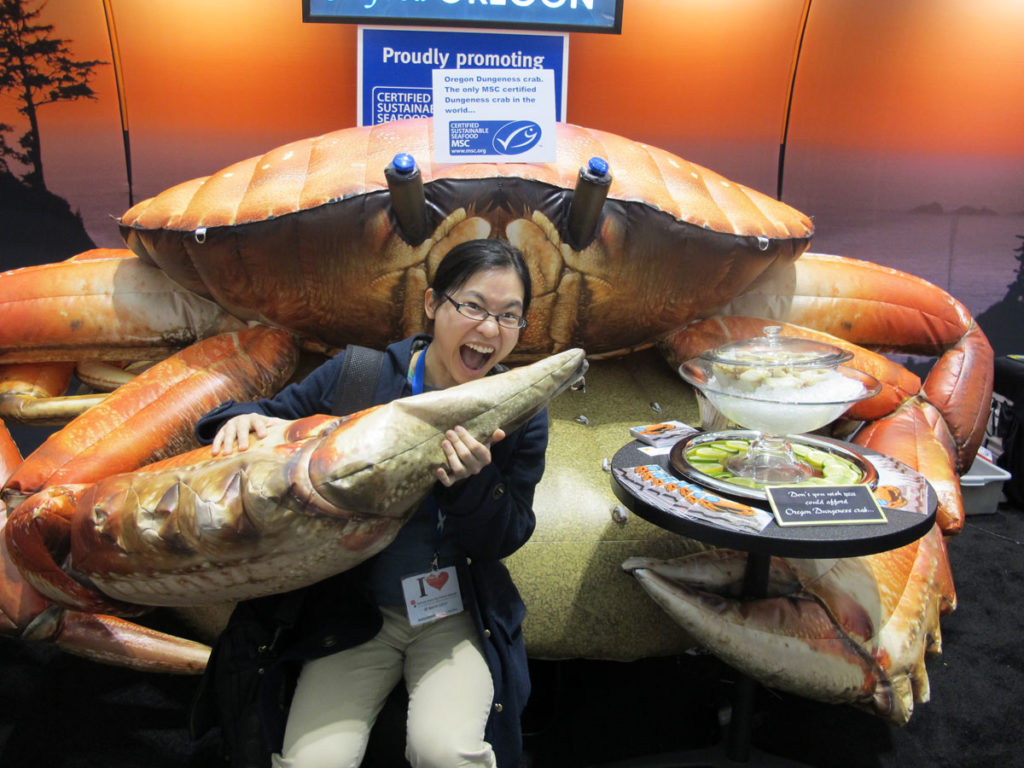 Or, if large oysters are not your style, how about a giant, inflatable Dungeness crab?
Stay tuned for more topics and analysis from the show!