Established in 1822, the Fulton Fish Market was the grand dame of New York City's freewheeling wholesale markets, an undeniably colorful fixture in lower Manhattan. On these chaotic, rough and tumble docks, ships from as far as Maine and North Carolina unloaded their goods in the wee hours of the morning. By 1924, the market was selling 384 million pounds of seafood a year, or 25% of all seafood sold in the U.S. Then in 2005, the market was moved to Hunts Point, a retail facility in the Bronx. This left a chasm in the South Seaport community, which lost a historic focal point and a hub of economic activity.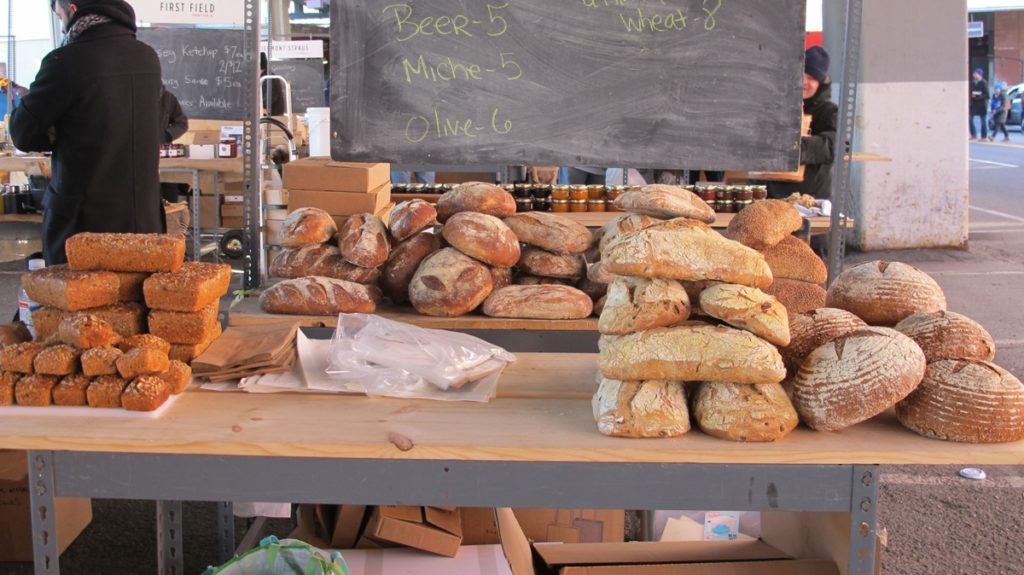 After the original market was shuttered, Robert LaValva held on to his vision of a year-round market at the old Fulton Fish Market location. He hoped to revive the East River Market District as a vibrant public destination for New Yorkers and visitors. In 2005, he launched the New Amsterdam Market, a Sunday gathering of independent and artisanal vendors near the South Street Seaport, a stone's throw from the Brooklyn Bridge. Butchers, bakers and jam makers began making regular appearances. Then for the 50th and final market of the year, LaValva invited purveyors of local and sustainable seafood to return to Fulton Street, bringing the taste of the sea back to these weathered cobblestones.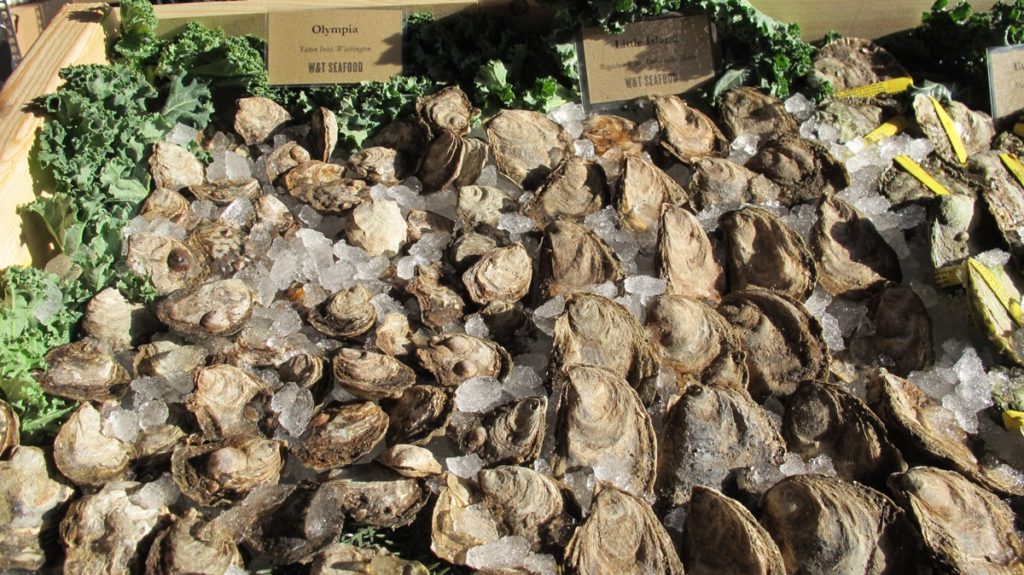 So, on a nippy December morning, we trekked across the bridge to the New Amsterdam Market for "A Gathering of Fisheries." In our carefully packed boxes, we had all manner of mussels, clams, netting, shucking knives, trays and napkins. Of course, we also had oysters, one for every palate. Briny Montauk Pearls from Long Island, overflowing with liquor. Thin, crunchy European Flats from the Damariscotta River in Maine, an intense mouthful of sea and mineral. And my personal favorite, Barnstables from Cape Cod, pearly pink beauties with a perfect salty-sweet balance. We had loose oysters in net bags, ready to be toted home, and a team of strong-wristed shuckers, ready to shuck for on-the-spot slurping.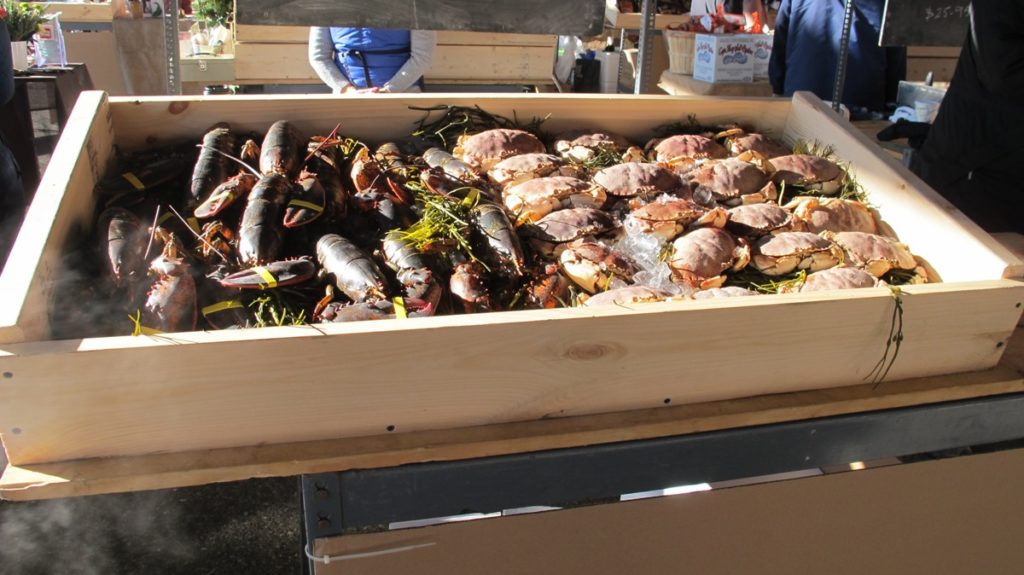 The adjoining stalls were filled with regional fishermen and shellfish farmers, displaying packed bins of smoked eel, seaweed and fresh fish. Our friends and neighbors from Cape May, New Jersey, who had toted a whopping 3,000 Cape May Salt oysters to New York. The farmers were happy to share the bivalve wealth, shucking freely and offering samples to the curious. "Brine and butter with a nice clean finish," they said. When our team of shuckers began lagging behind an ever-growing, hungry crowd, one of the farmers even jumped in with a knife to help us out. In a matter of seconds, he had opened several European Flats while standing, not even needing a flat surface! (European Flats are notoriously difficult to open because of their thin edges and lack of distinct hinges.) Onlookers may have been calling me a "shucking pro," but I would have happily handed over my title to this true mollusk master.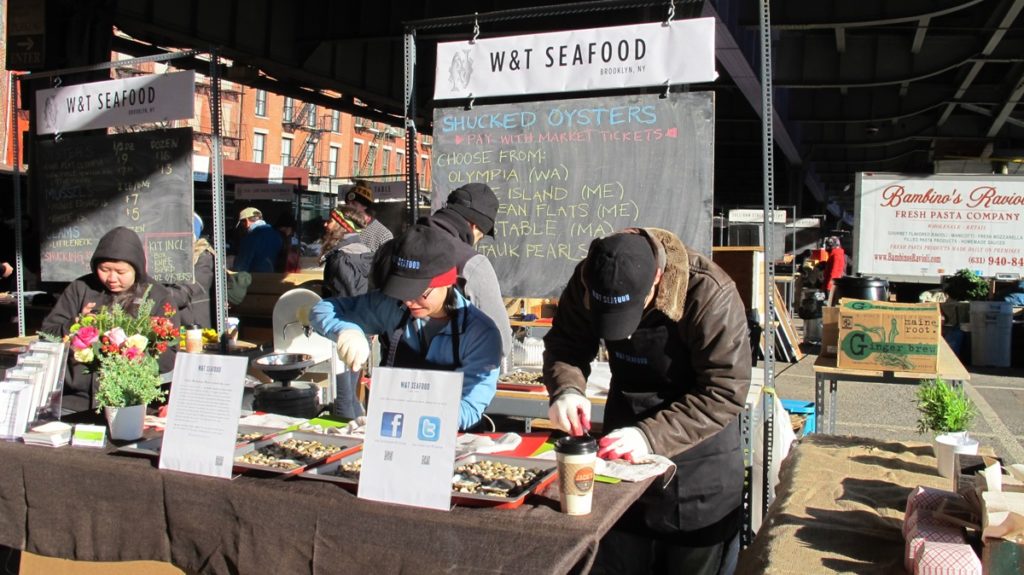 By the end of the afternoon, we had shucked and sold nearly 1,000 oysters. My clothes were now covered with brine and shell fragments, and my feet were blocks of ice, but I felt that rush of satisfaction from a well-fought battle. The wind was picking up again, and some of the oysters were beginning to freeze in their liquor. In unison, the market vendors clanged their bells one last time, as the sun set over the humming city. The New Amsterdam Market may be over for now, but its community—and fresh seafood—will return again before too long.