Psst, the not-so-secret kryptonite ingredient in our Thanksgiving stuffing is…oysters!
Oysters have historically been part of stuffing since colonial times, back when oysters were cheap and oyster reefs were plentiful all along the Eastern seaboard. Today, oysters are typically served raw on the half shell at fancy restaurants, but not long ago, they were a humble, poor man's food.
What's that, the idea of oysters in stuffing sounds crazy to you? Give us a minute to explain. Like anchovies in Caesar dressing, or fish sauce in a Thai curry, oysters provide a salty umami punch to stuffing that will NOT be overwhelmingly fishy. You will certainly taste the extra briny oomph, but it will be as you reach for more stuffing because you can't stop. In fact, we are so confident in the universal appeal of this stuffing that we dare you to serve it to first-time oyster eaters, or anyone who says they don't like oysters (without telling them that there's oysters inside).
The following recipe is highly adaptable to the ingredients you have on hand. You simply need bread, some aromatics, a highlight ingredient or two (we've used oysters and bacon), and some good stock to tie everything together and make sure the stuffing stays moist. And if you're concerned about the time required to shuck oysters, fret not. We have shucked oyster meats available, perfect for all your cooked oyster dishes. These are big, plump Pacific oysters, which means they'll stay meaty and sizable even after cooking shrinkage.
You'll note that this recipe calls for toasting fresh bread, rather than using stale bread. This is because toasted bread will absorb liquid more readily, becoming more flavorful, so it's better to use this over stale bread.
Happy Thanksgiving!
Oyster, Bacon & Mushroom Stuffing
Prep Time: 20 min
Cook Time: 45 min
1 lb firm white bread, cut into 3/4″ cubes
2 T butter, unsalted
1/4 lb bacon
1 lb mushrooms, sliced, such as shiitake or cremini
3 large celery stalks, leaves removed, diced in 1/4″ pieces
3 medium leeks, green and white parts, washed and diced in 1/4″ pieces
1/4 c parsley, minced, reserve some for garnish
1 t thyme, dried
1 t sage, dried
2 c shucked oysters, cut with kitchen shears into 1/2″ pieces over a bowl to catch the liquor
1 1/2 c chicken broth
2 eggs, beaten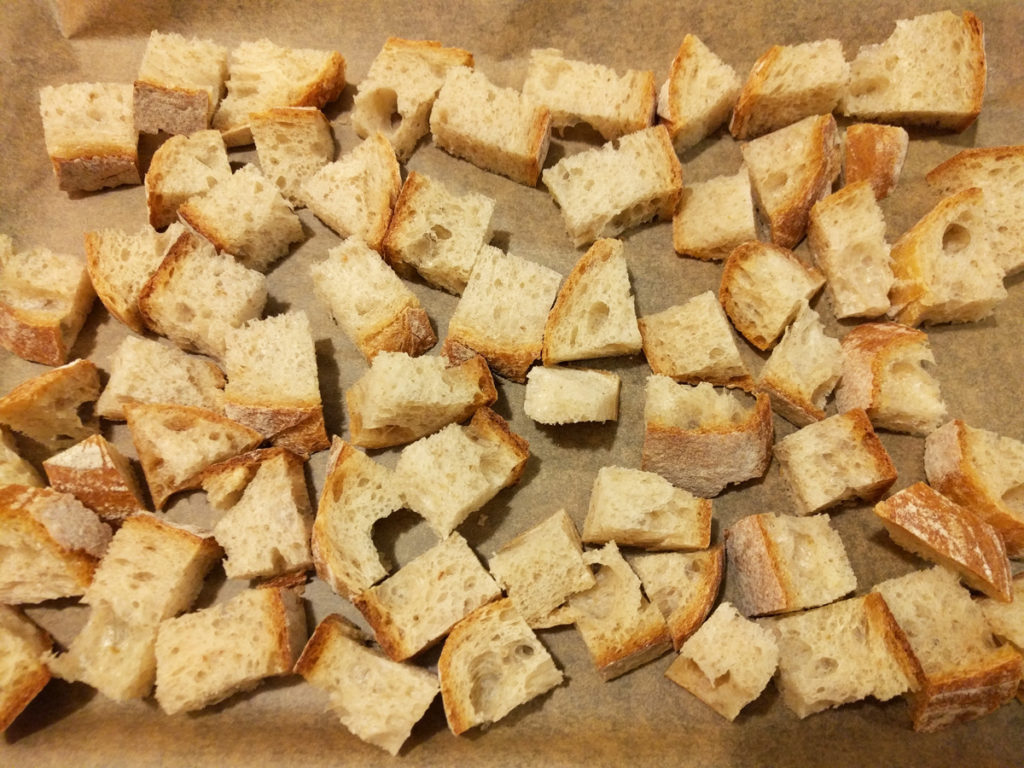 Heat oven to 325 F. Bake bread on a sheet tray for 12 minutes until toasted and dry. Cool completely.
Butter or oil a 9 x 13 inch baking dish. Cook the bacon in a large sauté pan over medium-high heat until browned. Transfer the bacon to a large bowl and crumble into smaller pieces. Add the mushrooms to the pan with the rendered bacon fat. Sauté the mushrooms until they are browned and most of the liquid has evaporated. Season with salt, and transfer to the bowl with the bacon.
In the same pan, melt 2T butter over medium-high heat. Add the leeks and celery, and cook until soft and translucent. Season with salt. Add the leeks, celery, parsley and dried herbs to the mushroom mix and toss. Add the bread cubes and oysters to the vegetables, stir gently to combine. Mix in reserved oyster liquor, chicken stock and eggs. The bread should be moist, and there shouldn't be too much liquid left at the bottom of the bowl. Season with salt and pepper to taste.
Put the mixture into a baking dish. At this point, you can cover the dish tightly with foil and refrigerate it until ready to bake. Bake the stuffing uncovered at 350 F until heated through and golden brown, about 45 min. Garnish with parsley.